2018 Rebel Yell® Bourbon Single Barrel Now Available
February 26, 2018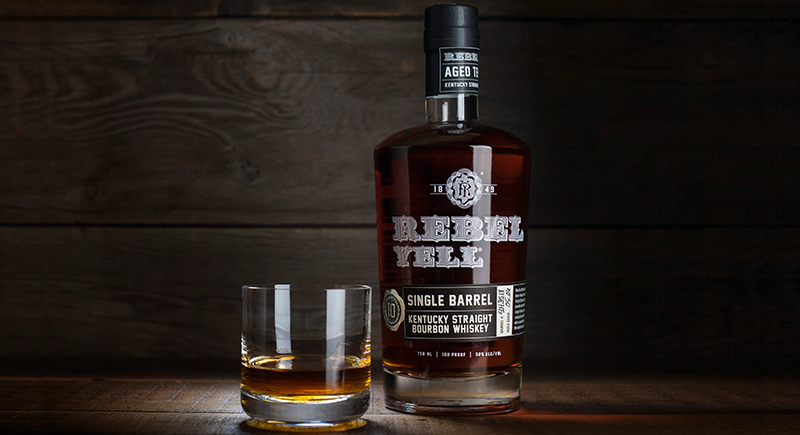 Highly acclaimed and aged 10 years, 2018 allocation offered in limited quantity
(ST. LOUIS, MO) February 26, 2018—Rebel Yell® Kentucky Straight Bourbon Whiskey has released its 2018 allocation of the award-winning Rebel Yell Single Barrel. At 100 proof, the original time-honored Rebel Yell recipe is meticulously aged in charred oak barrels for 10 years, building a unique flavor profile specific to each batch.
The hand-bottled wheated bourbon ranked at No. 12 in Whisky Advocate's Top 20 Whiskies of the Year list for 2017, described as maintaining "consistent excellence in a single barrel whiskey."
"Aging the bourbon for 10 years really brings out the sweetness, oakiness, and caramel and vanilla notes," says John Rempe, head distiller and at Lux Row Distillers – the new home of Rebel Yell as well as other bourbon brands. "Every barrel is different and has its own unique flavor profile, creating a new experience for consumers with every bottle."
This ultra-premium bourbon is robust and complex in flavor and is hand-bottled, one barrel at a time, for a uniquely rebellious experience. Each bottle, complete with a premium matte finish closure and natural wood cork, is sold in individual boxes, and each label includes the barrel number and an "aged since" date.
Rebel Yell Single Barrel will be available in most states in 750 ml bottles at a suggested retail price of $59.99 (100 proof/50% ABV) in 2018. Only 2,000 cases will be available, including a limited number of bottles at Lux Row Distillers once it opens its doors for visitors this spring as a new distillery experience along the Kentucky Bourbon Trail.
For more information about the distillery, visit www.luxrowdistillers.com, or follow it on Facebook and Instagram @luxrowdistillers. For more information on Rebel Yell and its product lineup, visit www.rebelyellbourbon.com. To sign up for the brand's loyalty program, Band of Rebels, visit www.bandofrebels.com.
About Luxco
A leading producer, supplier, importer and bottler of beverage alcohol products, Luxco's mission is to meet the needs and exceed the expectations of consumers, associates and business partners. Founded in St. Louis in 1958, Luxco remains locally owned and operated by the Lux family. Lux Row Distillers is bringing the family's legacy to the heart of Bourbon Country in Bardstown, Kentucky and is now the home of Luxco's bourbon portfolio, including Rebel Yell, Blood Oath, David Nicholson, and Ezra Brooks. Luxco has also built a new distillery in the highlands of Jalisco, Mexico – Destiladora González Luxco – where the company's 100 percent agave tequilas, El Mayor and Exotico, will be produced. Luxco's innovative and high-quality brand portfolio also includes Everclear Grain Alcohol, Pearl Vodka, Saint Brendan's Irish Cream, and other well-recognized brands. For more information about the company and its brands, visit www.luxco.com
For more information, please contact:
Pia Reinhold at preinhold@commongroundpr.com
Maggie Hallam at mhallam@commongroundpr.com