A New Way to Celebrate St. Patrick's Day
April 8, 2021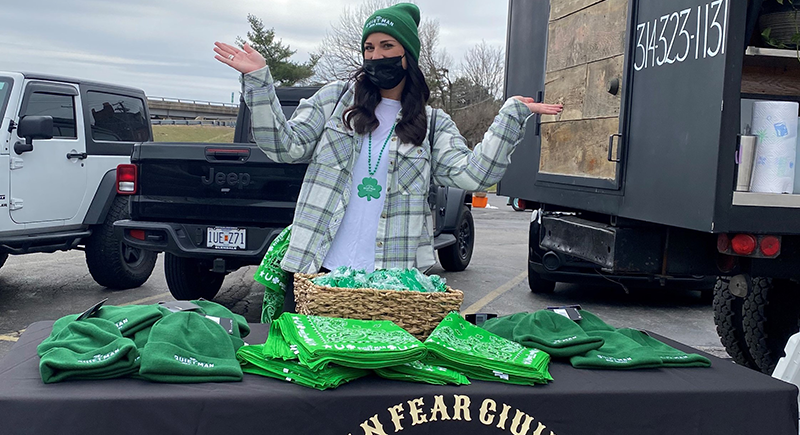 Like many annual celebrations, this year's St. Patrick's Day was a bit different from years past. Around the country, annual parades went virtual, and Irish pubs – normally packed on the day when everyone is Irish – strived to maintain social distancing with more modest attendance. Undeterred, the Niche portfolio brand team decided to take a different approach to this most revered of holidays.
Through a partnership with the Wandering Sidecar Bar, a local mobile-hospitality concept in the St. Louis area, the brand team created a unique and festive way to celebrate St. Patrick's Day – by taking a mobile Irish Pub to locations throughout the city and giving patrons over 21 the opportunity to try some holiday-inspired cocktails created by Dustin Parres, Missouri Field Sales Manager at Luxco®.
As the Wandering Sidecar Bar made its rounds on March 13, visitors to St. Louis' Tower Grove Park and patrons of 4 Hands Brewery were in for a treat. Featured specialty cocktails included The Quiet Man Irish Coffee with Saint Brendan's® whipped cream, Irish Iced Tea sweetened with Celtic honey liqueur, a Coffee Old Fashioned made with The Quiet Man 8-Year-Old Single Malt, and an Irish Matcha Latte to incorporate the holiday's signature green.
The special day included St. Patrick's Day merchandise giveaways, a socially distanced "selfie station," and plenty of ways to engage with the Niche portfolio brands on premise and on social media.
"When we heard that the Dogtown Parade in St. Louis was canceled, we wanted to provide a COVID-safe alternative for people eager to celebrate St. Patrick's Day," said Allison O'Brien, Brand Manager, Niche portfolio. "Judging by the turnout and by the amount of fun had by all, the gesture was extremely well-received!"