After 44 Years of Service, Cleveland Receptionist Deneice Voss is Retiring
December 30, 2016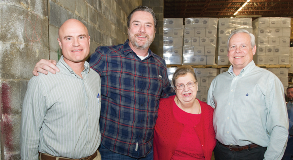 Deneice Voss is a well-known personality at Luxco's Cleveland division. Having worked there for 44 years, she has seen most of her co-workers join the company and even had a hand in hiring some of them. After high school, Deneice worked for the FBI and then a printing and office supply company before joining what was then called Paramount Distillers in Cleveland in December of 1972. When she joined the company, she was an administrative assistant to the president, Robert Gottesman, where she assisted with daily tasks, as well as helped interview potential employees.
After Gottesman passed away, she assumed receptionist duties for the company. "I love people – talking to them and getting to know them," says Deneice. "Working at the front desk has been a wonderful place to be."
She has clearly made an impact in many people's lives. Since announcing her retirement, she has been receiving a myriad of phone calls with warm wishes. "Luxco has been such a great place to work – all the supervisors and my co-workers are like family, and I will miss them terribly. I will also miss welcoming our visitors. They have been so kind to me over the years," she says.
The Cleveland native is looking forward to her retirement where she hopes to travel a lot and spend time with friends, family, and her beloved Schnoodle puppy. Deneice's son lives in Billings, Montana, so she is eager to take some time to visit him as well as other family members across the country.]
"Deneice has been the friendly face for Luxco greeting visitors and the cheerful voice answering phone calls, making all feel welcome," says David Prest, Cleveland Corporate Controller. "Her kindness and generosity to fellow workers here in Cleveland makes her special – we will miss her and wish her the best moving forward."
Best wishes for a happy retirement Deneice – we appreciate your years of service!