El Mayor® Tequila Continues to Impress
January 3, 2017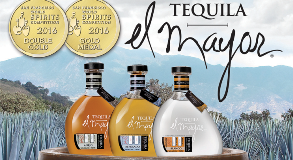 El Mayor® Tequila was recognized for its excellence in quality at the annual Spirits Selection by Concours Mondial de Bruxelles, one of the world's most prestigious spirits competitions. El Mayor's Destiladora González González was the only distillery to win Gold in three variants at the award competition.
After competing with 224 tequila entries from around the world, three varieties of El Mayor Tequila earned Gold awards – El Mayor Blanco, El Mayor Reposado, and El Mayor Añejo.
"We are honored that El Mayor Tequila was recognized for its high quality and craftsmanship," says Rodolfo González, Master Distiller at Destiladora González González. "With the awards being held in Mexico this year, it carries extra significance for our category, and
El Mayor being the only brand to sweep the Gold award in all three variants, we feel accomplished."
The Concours Mondial de Bruxelles has become the world championship for wine and spirits, with thousands of entries from across the globe for its Spirit Selection awards. The judging panel included international tasters from 23 nationalities, including Mexican tequila experts. The products are served in a blind tasting to the judges to ensure impartial results.
Another excellent round of awards for our line of tequilas!


El Mayor® By The Numbers
As of September 2016, El Mayor® has surpassed its sales from the same time last year by more than 4,000 cases. The top markets seeing growth are Michigan and Colorado, with 34% and 46% increases in sales respectively.
El Mayor Blanco continues to be the top seller with 48% of sales, followed by Añejo at 27%, Reposado at 22% and Extra Añejo at 3%.