Exotico® Tequila Continues to Grow
December 23, 2016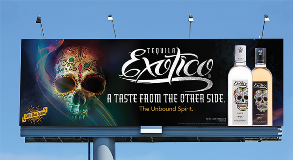 As one of Luxco's focus brands in 2016, Exotico® Tequila launched a concentrated marketing campaign this summer in three key markets: Dallas, Denver, and Chicago. Debuting its new creative look, the campaign involved a large-scale experiential sampling program and strategic placement of radio ads around key holidays. In addition, there were vibrant outdoor and indoor ad spaces on Chicago's "L" train as well as billboards and interior roadway posters scattered throughout downtown Denver.
With the tequila category growing at 6.8 percent*, and Exotico experiencing triple-digit growth year over year, Dallas, Denver, and Chicago represented the markets with the largest opportunity for Exotico's continued growth within a sizeable tequila segment. The brand has certainly seen success in these markets in 2016 – depleted cases are up 89 percent in Denver, 295 percent in Dallas, and 425 percent in Chicago.
More so, consumers are excited about the brand and the new creative look and feel, which adds an original twist to the colorful sugar skull represented on every bottle of Exotico. Describing it as "unique," "beyond ordinary," "high-quality," "authentic," and "bold", people are paying attention to this outspoken tequila. On Snapchat, Instagram, and Facebook, as well as through its updated website, Exotico Tequila is bringing #TheUnboundSpirit to life for consumers through engaging branded photography and video content.
With a successful campaign this summer, and many recent awards, Exotico Tequila is assured to start 2017 on fire!
*Source: IRI Data, Total US Multi Outlet, 52 Weeks Ending 8/7/16