Hot Brand of the Quarter – Lady Bligh!
April 2, 2014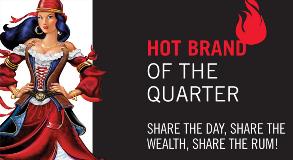 Share the day, share the wealth, share the rum!

As the doldrums of winter start to fade and people begin to emerge from the isolation of their cold weather hibernation, Lady Bligh Rum is the perfect catalyst to help start the thaw and spark the Spring and Summer party season!
Speaking of creating heat, Lady Bligh is a brand on fire! Up 45% (9L cases) over same period last year, the Brand continues to expand in distribution – and in fans! And with an upcoming late summer VAP (value added pack) and other scheduled offerings to be released later this year, Lady Bligh is primed to continue its phenomenal growth and live up to its "share the wealth" persona.
Distributed nationally in three delicious flavors – Original Spiced, Coconut and Cherry Spiced – the brand caters perfectly to an increasingly experimental consumer that isn't afraid to think for themselves by trying and favoring brands that aren't continuously force-fed to them in large doses of mass-media advertising. In fact, the quality/value proposition of Lady Bligh, mixed with its incredibly smooth and delicious taste, has created a word-of-mouth buzz among consumers and retailers alike.
It's for this reason, that we believe that Lady Bligh herself would be proud. It was her strong opinion that sharing good rum with good friends and creating good times is something that every man and woman should experience and enjoy. So it is with great pride that we carry on the crusade against rum tyranny in her name – encouraging those with the same rebel spirit to enjoy their rum with their heads (and glasses) held high! Toasting to the Lady with a twinkle in their eye and knowing in their heart that their own beloved Lady Bligh Rum is so incredibly and delightfully… Deliciously Sly.