LUXCO'S STAFF ENJOYS A NIGHT AT THE PARK
September 30, 2016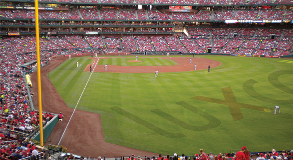 There are two things that continually prove to be important to Luxco, family and St. Louis sports. That's why this year, the entire Luxco staff was treated to a night at Busch Stadium to see their hometown Cardinals face the Milwaukee Brewers. Employees were invited to bring their families along for a fun, wholesome night out. Team Luxco was in full force adding roughly 270 Cardinals fans to an already packed house.
Two talented face painters and a balloon artist added to the excitement and provided a special and entertaining evening for the kids in attendance. Branded t-shirts, hats, sunglasses, and other baseball game necessities were kindly gifted to all who came out for the night at the ballpark.
Luxco was built on the principle that people do business with people, not companies. Events like these demonstrate that it's possible to balance hard work and dedication while still taking time to laugh and enjoy each other outside of a work setting. Thank you to the Lux family for one memorable night, and thank you Cardinals for the win!