Pearl Vodka Summer Promotion – A Rare Escape Awaits!
February 25, 2014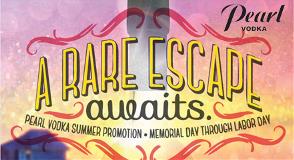 Pearl Vodka's 2014 Summer Promotion Sure to be a Hit with Consumers
This Summer, Pearl Vodka is taking it up a notch by offering "A Rare Escape" for two lucky Pearl drinkers to Bora Bora's Exclusive Pearl Beach!
The objective of this unique promotion is to introduce consumers to Pearl Vodka, increase brand awareness, and incent consumer's to purchase by creating a Brand Buzz during Pearl's key selling season (Memorial Day thru Labor Day). This program will be supported by a National and regional media plan (including digital, social, trade print, and search), as well as retail/account support, including retail POS, display enhancers and branded giveaways, and a $3 mail-in rebate.
Check out the below docs and info for more information.
Important Information & Key Dates
March 4th– March 11th : Order window for all program items

Place Retail POS order on Brand Muscle (you will receive an email blast with instructions from Sara Crandall at Brand Muscle)
Send Sara Downard order quantities for Branded Giveaways & Display Enhancers in

attached spreadsheet

Sara will communicate final order quantities on all program items to all DM's/SM's prior to submitting final order

April 1st – April 15th: Ship Date for Support Materials

Ship date for all Retail POS, Display Enhancers & Branded Giveaways

May 15th– September 8th : Targeted Display Dates

Product on the floor in time for Memorial Day, running through Labor Day
***Please contact Ashley Ulkus with any comments or questions.