Rebel® 100 Minibike Race Builds Relationship with Moto Community
July 13, 2022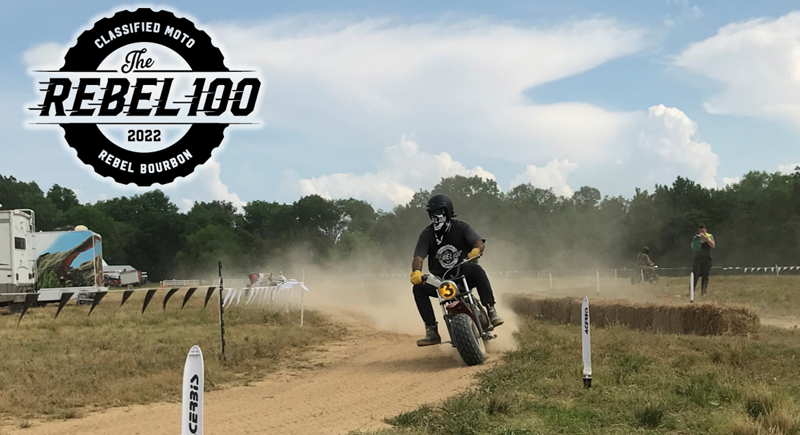 This May, the Rebel® team at Lux Row Distillers™ partnered with longtime friend/Instagram influencer/motorcycle builder John Ryland from Classified Moto to sponsor the 2022 Rebel 100 Minibike Race. Held at the Rebel 100 Track at Bob's Cycle Barn in Richmond, Virginia, the event featured five teams of 10 racers. Ryland's group of friends and acquaintances from the Richmond area created a fun and highly competitive two days of minibike racing.
The event consisted of one consecutive race spanning two days on May 21-22. It started with time trials to split participants into teams based on an equal mix of ability levels. Teams then raced 100 laps per day, with each participant racing around the track until the team collectively reached the 100-lap mark.
The winning team earned bragging rights and an engraved trophy that now resides at Classified Moto. Winners of the Fastest Lap and Most-Improved awards went home with trophies made from old motorcycle parts!
The event – cosponsored by Classified Moto and Rebel Bourbon – featured eight bands over the two days, with fire pits, camping, and food trucks available to all attendees. The Rebel brand team provided an open bar, readily stocked with Rebel 100 Bourbon for those guests 21 and older not participating in the races.
The limited-engagement, invitation only event drew an intimate crowd of 200 people, most of whom participated in the race itself. Based on the success of this inaugural event, crowds are likely to grow next year and beyond.
"We're proud to continue our relationship with John Ryland and Classified Moto as a cosponsor of the Rebel 100 event. Our goal this year was simple: to have a lot of fun and put this event on the map for the racing community," said Rebel Assistant Brand Manager Philip Lux. "This first year proved to be a successful proof of concept, and we are looking forward to growing this event next year and for many years to come!"