SHIFT CHANGE
July 4, 2015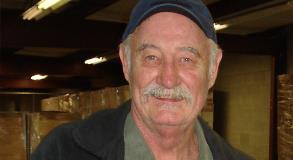 Bob Frenz began working for Luxco in September of 1982. He's worked in various positions in the plant, performing miscellaneous jobs in the very beginning before moving on to A rate, processing and running the palletizer.
"When I started, the QC lab was the front office, so Paul would be out there all the time, and we were able to work closely with him," Bob recalls. "We were building a brand, and it was nice being a part of that."
When Bob retired at the end of March, a special BBQ was held in celebration of his many years with the company … but he's not sure what his retirement will look like quite yet.
"I haven't really figured out what I want to do … I'm still trying to get my hours straight!" Bob says with a chuckle. "I worked second shift for so long, that it's hard to get your body used to a regular schedule. I'm hoping to do some fishing sometime soon."

Many thanks to Bob for his 32 years of loyal service!