Two Luxco® Distilleries Earn Distinction as one of USA TODAY'S 10Best
January 5, 2022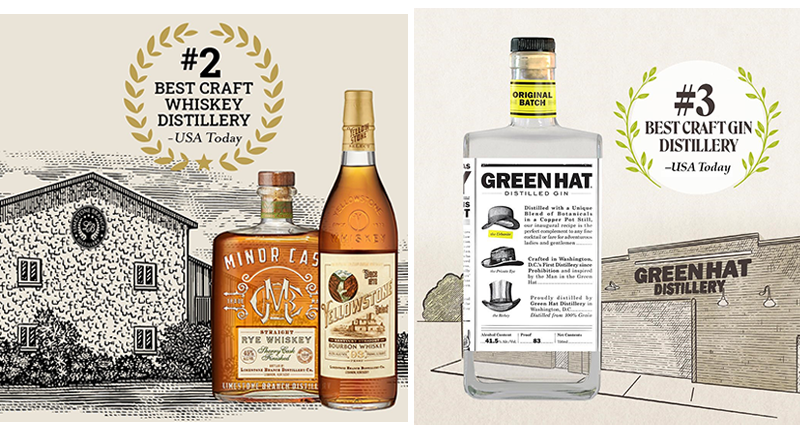 Two of Luxco's award-winning distilleries can each chalk up one more distinction: placing among the top honorees in USA TODAY's annual 10Best Readers' Choice Awards.
Since 2013, USA TODAY has enlisted a group of experts to select the top 20 nominees in contests covering food, drink, lodging, destinations, travel gear, things to do, etc. The publication's readers and the public are then invited to vote for their favorite from these groups to determine the 10Best in each category.
Earning the #3 spot in the Best Craft Gin Distillery category this year was Green Hat® Distillery.
Green Hat Distillery features on-site production as well as a tasting room, bar, and gin garden. The premium distilled gins crafted at Green Hat include Original Batch Gin, Navy Strength Gin, Citrus Floral Gin, and Summer Cup Cordial.
"At Green Hat Distillery, we strive to provide a casual, friendly atmosphere where consumers can get an up-close experience with our brand and with our premium distilled gins," said Travers Lingle, distiller at Green Hat Distillery. "We are grateful to those consumers who have named us among USA TODAY's 10Best, and we will continue to do our best to earn their vote and their patronage."
For Limestone Branch Distillery™, being named among USA TODAY's 10Best also is not a new experience. The Lebanon, Kentucky, distillery first earned the distinction as Best Craft Whiskey Distillery in 2018, debuting at the #2 spot. In 2019 and 2020, Limestone Branch Distillery came in at #3. This year, Limestone Branch returned to the #2 position.
"We are honored and thankful to have been chosen as one of the Best Craft Whiskey Distilleries for four straight years," said Stephen Beam, Founder and Master Distiller at Limestone Branch. "Winning this award shows that our visitors connect with the passion and heart we have for distilling and what we do."