A Day in the Life of Whiskey Ambassador Stephen Fante
July 9, 2020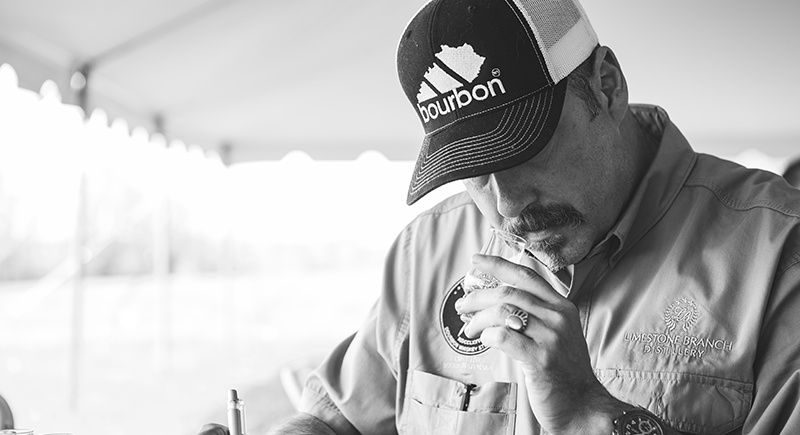 Stephen Fante, Whiskey Ambassador for Limestone Branch Distillery™, is a man of many hats. He joined the team in May 2013 and says while he's been an ambassador for the brands from the start, he's been deployed on many missions in his seven years at the distillery.
While every day may look a little different, they always include a warm cup of coffee from Fante's Coffee – his brother's coffee shop in Louisville – and, when possible, a few minutes on the porch enjoying the beautiful views and constant breeze.
Stephen's latest mission is working with all distributors and Luxco state managers to sell barrels of Yellowstone® Hand Picked Single Barrel, as well as selling the experimental collection of 15-gallon barrels in the Limestone gift shop and other Kentucky stores.
On a barrel pick day, for example, Stephen leads the guests through the entire process, beginning with preparing and organizing the samples for tasting. Once the guests arrive, Stephen greets them – with a coffee in one hand for himself and a cocktail in the other for the guests – and leads them on a tour of the distillery, covering its history, family heritage and distilling process. Once they reach the tasting bar, Stephen shares tips on how to taste each sample in order to choose the best product and explains the unique characteristics as well as features and benefits of the distillery's products. Finally, the guests are ready to begin the tasting.
"Our Yellowstone black label tastings are unique from most other tastings I've experienced or heard of," Stephen said. "We taste through each barrel at three different proofs, starting with the lowest proof. Typically we find the best flavors at the higher proofs, but not always. After discussing among the group, we then separate their favorite barrel and proof combinations to taste through once more and ultimately choose the best barrel."
When not leading guests through a barrel pick experience, you can find Stephen in the Louisville market meeting with restaurant, country club and liquor store owners, preaching the word of Limestone Branch's brands. In addition, some days are dedicated to leading a tasting for a group, whiskey society or at an event in Tennessee, Kentucky, Indiana or Ohio.
No matter what each day brings, Stephen says he's always grateful for the opportunity to work with the finest crew in the bourbon business. "Limestone Branch Distillery is a joy to work for because of our leader, Steve Beam. He not only out-works us all, he is without a doubt the best boss I've ever worked for," Stephen said. "His passion for this industry and his eye for detail are beyond the best. I came to work at the distillery not for the position, but for the opportunity to work with Steve Beam. I would do it all over again!"
What is your all-time favorite movie?
Second Hand Lions, as it reminds me of my summers with my uncle on his 3,500 acre cattle ranch in the Ozark Mountains in Oklahoma. The stories from that time in my life are equally as funny as that movie; you just can't make up stories like that!
What is a place you would love to travel to?
I would like to see Mackinac Island, Michigan. I have stayed in Martha's Vineyard, Hyannis and Provincetown in Massachusetts, and I think sailing to Mackinac Island would be fantastic. It would be cool to see no cars.
Favorite sport?
Rodeo, by far! I have never been bored at the rodeo.
What is your favorite cocktail?
Manhattan on a block with a Luxardo cherry.
Famous person you would like to meet?
Willie Nelson would be a great conversation! He has done so much for the farmers in the United States, and he has had so many life experiences I'm sure we could talk for hours.
Last book you've read/favorite book?
Bourbon Whiskey Our Native Spirit by Bernie Lubbers is the last book I've read. My favorite writer is Hemingway, and The Old Man and the Sea is one of his best books.
Best word to describe you?
Passionate