BIENVENIDOS TO THE EL MAYOR AMBASSADORS!
July 1, 2015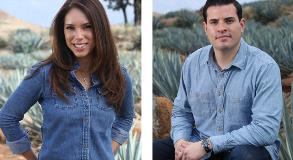 The El Mayor Ambassador Program is designed to introduce consumers, vendors and distributors to the El Mayor brand. Prior to tasting events, there will be promotional social media posts and PR outreach to local food and beverage editors. At the events, which are designed to educate and engage attendees, there will be the opportunity to sample
El Mayor variants and pair with food. Each attendee will receive one complimentary, preassembled El Mayor tasting kit to use during the event and then take home.
The goal is to turn attendees into tequila aficionados and El Mayor enthusiasts
before they return home!
As a key part of the program, Luxco has two national brand ambassadors – Graciela González and Javier San Martin.
Graciela is the daughter of Master Distiller Rodolfo González and the face of Distilladora González González. She will host trips to Guadalajara, Mexico.
Javier has been involved in the tequila industry for seven years, spending time as an ambassador for Cuervo reserve brands and Tequila Don Julio. Javier plans to conduct tasting and educational events as he builds account relationships in targeted markets.
What does your role with El Mayor entail?

Graciela: My most important role is to let the people know all the passion and care my family puts in each bottle. Producing premium tequila like El Mayor takes years
of work, from the fields to the distillery to the bottling facility. I want to raise awareness
of this amazing spirit – not only how it is produced, but how it should be enjoyed! I want to give consumers a new enjoyment of tequila by holding tastings, sharing amazing recipes and paring El Mayor with different plates, just as one does with wine.
Javier: I wear a lot of hats as a brand ambassador for El Mayor. I manage a group of target accounts in key territories while hosting for consumer and trade events throughout the U.S. and assist the brand manager in developing marketing plans and tools for the tequila portfolio. I'm also responsible for increasing case growth on El Mayor and Exotico, and represent the face of the brand for social media consumer engagement.

What makes El Mayor special?

Graciela: The quality of the agave. My father takes a lot of care with the agave we grow
for El Mayor. Each plant is hand-selected in order to use only the best. Also, my family's involvement in the production really makes a difference. Paul, my brother, supervises the production of each batch of tequila; he leads the tasting panel and makes sure each batch matches the profile and quality standards. My father is the Master Distiller, making sure each batch of tequila bottled has his approval. The passion that we share has helped us to create a line of tequila for the most demanding palates. Each one of the El Mayor marks (Blanco, Reposado, Añejo and Extra Añejo) has unique charm and character. There is a lot of care and hard work behind each one.
Javier: In this industry, the word "craft" gets thrown around a lot. One thing I want consumers to know about El Mayor is that we truly embody what it means to be handcrafted. This is a brand that is family owned and operated, benefiting from time-honored techniques and 100% estate-grown blue weber agave. I want people to learn to love tequila as a category, and appreciate the time and effort that goes into crafting the spirit.