El Mayor Tequila® Debuts New Logo and New Look
March 2, 2020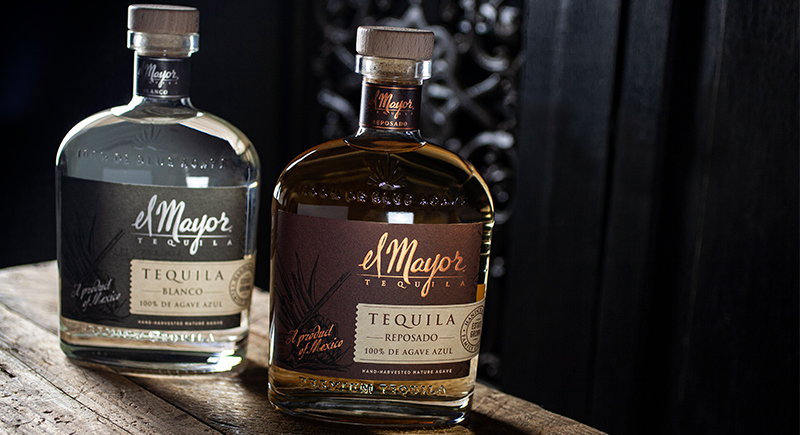 Premium tequila family of products updates packaging, label and logo
ST. LOUIS (March 2, 2020) – El Mayor® Tequila has debuted a fresh look. The brand updated their logo and launched a new, contemporary packaging. The new bottle features embossed details around the neck and base, in addition to a completely redesigned front and back label. Also, the new El Mayor Tequila bottle is topped with a natural cork featuring a modernized brand logo.
"When El Mayor was on the shelf, it was at times difficult to read the logo as the bottle was often turned to the side given its previous unique shape," says McKenna Burst, brand manager. "The new bottle allows the product to be more 'shelf-friendly' and really highlights the premium qualities of this line of tequila. Don't worry, the tequila inside is still the same, high-quality product."
The redesigned bottle and label will apply to the El Mayor family of products, including El Mayor Blanco, El Mayor Reposado, El Mayor Añejo and El Mayor Extra Añejo. The vision behind the redesign was to highlight the rich heritage of the El Mayor products – the hand-crafted process and the estate-grown agave.
"The new bottle shape is more timeless – slightly vintage yet always in fashion and easy to grab and pour," says David Cole, designer. "The label is soft and textured, with a hand-drawn image of the agave piña and a coa knife, relating back to the real people and places involved in making tequila."
The new packaging will be available nationally this summer and was first seen at the Honda Classic Golf Tournament in West Palm Beach, where El Mayor was the Official Tequila of the tournament.
For more information on El Mayor, visit ElMayor.com and follow El Mayor on Instagram @elmayortequila.
About Luxco
A leading producer, supplier, importer and bottler of beverage alcohol products, Luxco's mission is to meet the needs and exceed the expectations of consumers, associates and business partners. Founded in St. Louis in 1958, Luxco remains locally owned and operated by the Lux family. Lux Row Distillers is bringing the family's legacy to the heart of Bourbon Country in Bardstown, Kentucky and is now the home of Luxco's bourbon portfolio, including Rebel Yell, Blood Oath, David Nicholson, and Ezra Brooks. Luxco has also built a new distillery in the highlands of Jalisco, Mexico – Destiladora González Luxco – where the company's 100 percent agave tequilas, El Mayor and Exotico, will be produced. Luxco's innovative and high-quality brand portfolio also includes Everclear Grain Alcohol, Pearl Vodka, Saint Brendan's Irish Cream, and other well-recognized brands. For more information about the company and its brands, visit www.luxco.com.
For more information, contact:
Maggie Toigo at maggie@commongroundpr.com or Pia Reinhold at pia@commongroundpr.com.