INTRODUCING BLOOD OATH PACT NO. 2
April 11, 2016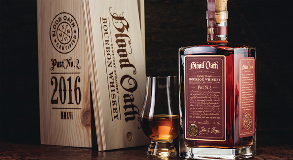 The second expression of the Blood Oath series, Pact No. 2, will be released April, 2016. Blood Oath is a limited release, ultra-premium bourbon series that combines rare, top-notch bourbons, blended and bottled by hand for a distinctively unique and exceptional taste.
Pact No. 1, released in 2015 with only 5,000 3-pack cases available, featured the combination of three bourbons ranging from 6 to 12 years, including a 6-year wheated bourbon, a 7-year rye bourbon and a 12-year rye bourbon. The result was an exceptionally smooth bourbon with a touch of spice & fruit and a long, warm dry finish.
Pact No. 2 is a masterful union of three well-bred bourbons ranging in age from seven to eleven years. The first, a 7-year rye bourbon finished in port barrels, is artfully joined by an 11-year wheated bourbon and an 11-year rye bourbon. "Pact No. 2 has a fuller mouthfeel than Pact No. 1 with an oaky, caramel and cocoa aroma and a smooth flavor," says John Rempe, creator of Blood Oath and Director of Corporate Research and Development at Luxco. "The rye mash bill of the 11-year offers an oaky and spicy flavor, which is smoothed out by the extra-aged wheated bourbon – while the port-barrel finished rye brings it all together with a velvety sweet finish."
Pact No. 2, bottled at 98.6 proof in 750mL bottles, is available in limited quantities nationally, with a suggested retail price of $99.99. Only 7,500 3-pack cases will be available and each bottle will come in a commemorative fire-branded wooden box. Enjoy Blood Oath Pact No. 2 while it lasts – this rare bourbon will never be made again. For more information on Blood Oath, visit www.bloodoathbourbon.com.