Luxco® Barrel Programs Celebrate a Successful 2020 and Plan for 2021
January 8, 2021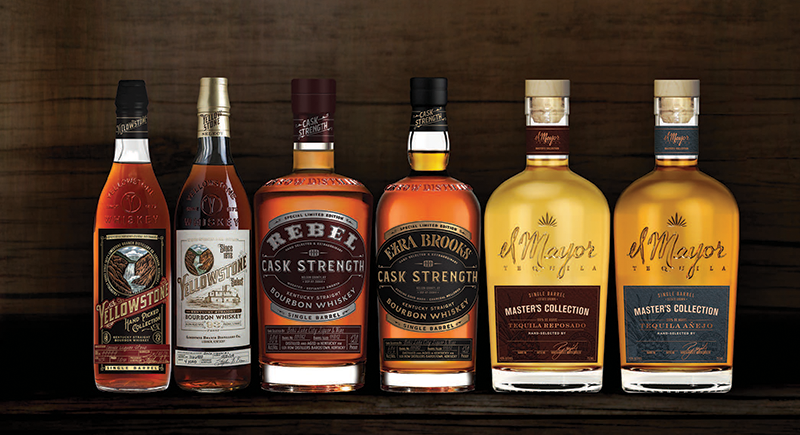 RECAP OF 2020 PROGRAMS
In late 2019, master distillers at Lux Row Distillers™, Limestone Branch Distillery™ and Destiladora González Lux (DGL) set aside a limited quantity of exceptional barrels to create a premium barrel program experience.
The 2020 Barrel Program picks have proven to be an overwhelming success by any measure. But in a year marked by quarantines, shutdowns, social distancing and travel restrictions, the program's performance was nothing short of awe-inspiring.
Last January, Lux Row Distillers began offering barrel picks for Ezra Brooks® and Rebel® Distiller's Collection and scheduling customer visits at Lux Row Distillers in Bardstown, Kentucky. Interest in this new program was high, with scheduled barrel picks in the first quarter exceeding program goals for each brand for the entire year. But, when COVID-19 hit in March, travel was restricted, people were encouraged to self-quarantine and minimize social contact, and the distillery had to close to the public for part of the year.
Undeterred, the Lux Row Barrel Program team developed Ezra Brooks and Rebel Distiller's Collection sample kits and relaxed the mandatory distillery visit to participate in the program. Custom-packaged sample kits included three 200mL samples, one of each from three potential barrels a customer intends to purchase. These sample kits proved to be a great alternative and have been a hit with many customers, particularly those unable to travel this year.
Those customers still wanting an in-person experience were offered the opportunity to reschedule their distillery visit. For those customers, the experience seemed well worth the wait. Participating customers in the 2020 Lux Row Barrel Program have described their distillery visit as, "the best experience ever," proclaiming, "pride in ownership doesn't even come close to paraphrasing how the Lux Row family does business."
A few miles away in Lebanon, Kentucky, Limestone Branch Distillery™ was ready to launch the Yellowstone® Barrel Program for 2020, which offered two ways for customers and accounts to select and purchase their own barrel. Yellowstone Select Single Barrel was to be offered to customers and accounts through a sample kit, and Yellowstone Hand Picked Single Barrel available only through a visit to the distillery for in-person barrel picks.
The Yellowstone Barrel Program, like the other barrel programs in 2020, was not immune to the impact of COVID-19. With Limestone Branch Distillery temporarily closed too, the distillery allowed consumers and accounts to replace their Yellowstone Hand Picked Single Barrel for a Yellowstone Select Single Barrel sample kit instead. But when the Distillery re-opened, Yellowstone Hand Picked Single Barrels were once again offered exclusively through in-person distillery visits.
The El Mayor® Barrel Program returned in 2020 with the same exceptional quality, but with a new look. Rodolfo González, Master Distiller at Destiladora González Lux, chose a limited number of barrels to set aside to include in this year's program.
The 2020 Barrel Program included a choice between two varietals: El Mayor Reposado Single Barrel and El Mayor Añejo Single Barrel. Participating accounts received a sample kit to choose from three different unique variants. The traditional teardrop bottle was updated for 2020 to a more modern and premium bottle, and each new bottle arrived with a customized label named for each account's selected batch.
The 2020 El Mayor Barrel Program was a hit among customers, and the new bottle received a great deal of positive feedback.
LOOKING to 2021…
Lux Row Distillers™ 2021 Barrel Program
For 2021, the Lux Row Distillers™ Barrel Program features expanded options and two new brands.
The Lux Row Distillers Barrel Program sample kit returns as a full-time option – and is the only way customers can purchase the Distiller's Collection brands in 2021. A limited quantity of Ezra Brooks® and Rebel® Distiller's Collection barrels will be available for participating customers and accounts.
For customers who wish to visit the distillery to handpick their barrel, Lux Row Distillers will offer two new brands exclusively available for in-person picks: Ezra Brooks Cask Strength Single Barrel and Rebel Cask Strength Single Barrel, both cask-strength offerings are bottled at a 120 proof.
Yellowstone® 2021 Barrel Program
The Yellowstone® Barrel Program, featuring Yellowstone Select and Yellowstone Hand Picked Single Barrel, is back for 2021!
Yellowstone Select Single Barrel will once again be offered through sample kits that contain three 200mL samples from three different potential barrels customers wish to purchase. Each barrel yields approximately 40 cases (at six bottles per case), and bottles will feature iconic Yellowstone Select labels with added customization for each customer.
Yellowstone Hand Picked Single Barrel will remain to be offered exclusively through in-person visits to Limestone Branch Distillery™ hosted by Stephen Fante, Whiskey Ambassador. Participating customers will tour the facility before selecting and choosing a custom proof of 102, 109 or 115. Lastly, the Yellowstone Hand Picked program will give customers a special gift to commemorate their trip and experience for years to come!
El Mayor® 2021 Barrel Program
In dedication to Master Distiller Rodolfo González, El Mayor® will be unveiling The Master's Collection barrel program in 2021. González has hand-picked a limited number of Reposado and Añejo barrels that he has deemed for this special collection. Sample kits of El Mayor Reposado and El Mayor Añejo are now available for interested customers and accounts to order.
Once the customer selection is made, varietals will be placed into brand-new bottles featuring hand-applied, personalized labels and shipped with a refurbished bourbon barrel for point-of-sale display.
Availability for all 2021 Barrel Programs is extremely limited, so accounts interested in participating in the program should contact their Luxco Sales Account Representatives to submit a formal request.