REBEL YELL® – THE NEXT CHAPTER IN A STORIED HISTORY
January 5, 2015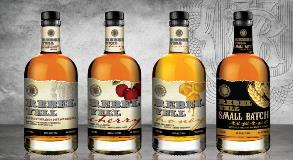 Risk takers, rule breakers and noise makers unite. An American classic is reborn for a new era of rebellion!
The original time-honored Rebel Yell recipe dates back to 1849, when it was invented at what would become the Stitzel-Weller Distillery. While the distillery became known for the many famous bourbons produced there, its wheated recipes are perhaps most notable for their softer, smoother taste and graceful aging process. More than 150 years later, Rebel Yell is bridging the gap between its proud heritage and modern times to honor the universal spirit of rebellion that lives on in each of us. Rebel Yell has now been refashioned for a new generation of bourbon drinkers to enjoy.
All Rebel Yell packaging has been updated to produce a robust, uniform shelf presence for the entire brand family. Flanked by heavier glass bottles, premium cork closures and embossed labels, the new lineup will increase relevance for younger audiences and create an opportunity to command a higher price point. Changes include new packaging for Rebel Yell Kentucky Straight Bourbon, as well as bringing Rebel Reserve Honey and Cherry under the Rebel Yell name. Rebel Reserve will also be updated and now called Rebel Yell Small Batch Reserve. These new packaging and name changes now provide a more consistent and cohesive brand family lineup at retail. New packaging will be available nationally starting January 2015 in the 750mL bottle, followed by the 1.75L bottle rolling out in March 2015.
Whiskey is experiencing a tremendous period of growth, with domestic whiskey up 5.3% over the past 12 months*. Rebel Yell is growing even faster, up 19.2% over the past 12 months*. With the updated packaging, now is the perfect time to capitalize on this momentum.
Coming in March, Rebel Yell will be introducing two new variants to the current family lineup, Rebel Yell Small Batch Rye and American Whiskey. Both new variants will be in a 750mL bottle with screened-printed label graphics and at 90 proof. Rebel Yell Small Batch Rye will provide a little more spice and robust flavor to the current Rebel Yell family lineup. With the rye segment up 23.3% there is no better time to launch this new variant*. Rebel Yell American Whiskey is a unique whiskey blend that combines the smooth and sweet taste of our wheated bourbon with the spiciness of a rye. Both new products provide the opportunity to elevate the image of Rebel Yell, command higher price points and deliver higher margins.
Rebel Yell marketing support will increase by 223% in 2015 vs. 2014 to help support the new packaging and innovation launches. The Band of Rebels program will be revamped and refreshed to coincide with the launches. All retail support materials will be updated to highlight the new packaging and drive consumers to the Band of Rebels program online.
New support materials include:
Impactful display enhancers

VAP and Rebate Offers

New Point-Of-Sale signage

Event Sampling Program
Media support in 2015 will increase 386% vs. 2014 and include newly refreshed creative to generate excitement and introduce the brand to a new, younger generation of bourbon drinkers.
Updated media support includes:
Facebook fan engagement strategy

Redesigned facebook page and website

Targeted local digital ads

– Trade media & PR support
Rebel Yell's new packaging, innovation and marketing support bring a renewed energy and spirit to this time-honored brand, as well as the opportunity to speak to an entirely new audience.

Good luck selling and Never Go Quietly!
*Source: DISCUS Members Only Data R12 Sep 2014 vs. PY