30th Anniversary Theresa Koester
October 11, 2015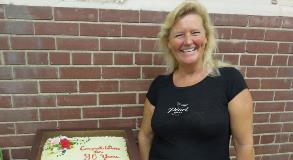 Theresa Koester has "grown up" at Luxco. She started at the company on August 12, 1985, at the age of 25, after working as an airplane mechanic in the U.S. Air Force. She has spent the last thirty years working in the bottle shop, on the lines, in shipping and in the warehouse. A typical day for Theresa involves a lot of "hauling glass" – loading and unloading.
Some of her favorite Luxco memories involve Paul Lux.
"He was a nice person to talk to, and he knew everyone's name. He would always come over and shake your hand and congratulate you on your birthday."
Theresa also recalls a memorable visit from David Sherman: "One day, he brought a group of guys in suits to try some Dos Gusanos (or 'two worms'). Mr. Sherman asked me if I'd like to join them, and I said
'No – I'm not drinking nothin' with bugs in it.' Of course they all started laughing."
Theresa hails from western Texas, and was stationed in Charleston, South Carolina during her time in the military.
Her favorite Luxco product is Salvador's 26 Proof Original Margarita®, which she savors over ice with a splash of Grand Marnier®.
"For a while, I had trouble finding Salvador's on the shelves at Schnucks and Dierbergs, so I talked to some people here … and now it's back in the stores again!"
When she's not working, Theresa enjoys spending time with her daughter, Niki, and grandson, Mason; caring for her dogs, two Chihuahuas named Missy and Chico; and working in her garden.
"Luxco was a pretty good place to grow up," Theresa adds. "The teamwork here is awesome, and I work with a group of really nice people."
Thank you, Theresa! We're lucky to have you as part of the Luxco family!