40 YEARS AND COUNTING: DALE NAUMANN
October 10, 2016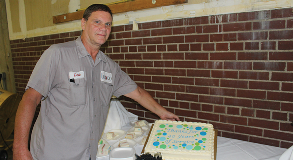 You could call him Luxco's jack of all trades, but most refer to him as Dale Naumann. Having worked on the line, in bottle dumping, in processing mixing juice, and currently on the palletizer, Dale has performed nearly all of the warehouse jobs at Luxco.
It all started 40 years ago when Dale graduated from Southwest High School (now Central Visual Performing Arts High School). Dale was cutting the grass at the Kemper plant next to his alma mater on August 16, 1976 when someone stuck their head out at Luxco and offered him a job. He started as a part-time team member, and within a year was brought on as a full-time employee.
Dale was born and raised in St. Louis City near the southside of The Hill, and has a loving family that includes his wife Deva Naumann, daughter Kimberly, and granddaughter Rachel. When Dale is away from work he particularly enjoys watching boxing and riding his motorcycle, a 2000 BMW R1200 LT. Dale also enjoys drinking Luxco's Santa Cruz Light Rum when he's off the clock, thanks to a suggestion from his wife years ago.
One of Dale's favorite parts of working at Luxco is getting to spend his days with the friends he's become close to throughout his years at Luxco. More so, Dale is especially grateful to Donn for all of his generous gestures including the company barbecues, trips, and of course his hard-earned Rolex. This season's Night at Busch Stadium was the first time Dale's wife ever attended a professional baseball game, and thanks to the Luxco family, they'll be enjoying more games together for years to come. Thank you Dale, from the entire Luxco family!