A BIT OF HISTORY CERAMIC LIQUOR DECANTERS -by Donn Lux
July 2, 2014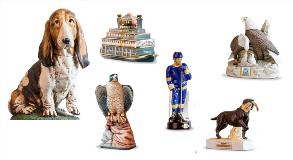 When Luxco recently re-modeled the corporate office, on Clark Avenue, someone asked me, "Why are we keeping these big clunky decanters, or whatever these things are, on our display shelves, and why are they even here?"
Little do most people now working for Luxco know, but these decanters are a very large part of our history and I like to keep them proudly displayed for a number of reasons: (1) They are a key part of our history… more on that in a bit. (2) The wildlife representations are impressive. (3) They were one of Dad's favorite things to see!
The "decanter business" (as it was to become known) was a thriving business from the mid-1960's until the late 1970's. Most major whiskey brands such as Wild Turkey, Jim Beam, Lord Calvert and Ezra Brooks produced holiday decanters that all sold very well. McCormick Distilling (which is still known as McCormick today but with different owners) really hit a home run in signing a licensing agreement with Elvis Presley to produce a line of Elvis decanters. The Elvis decanters sold like mad! And they really sparked a whole new aspect of the decanter business that replicated people and living creatures.
Sometime in the late 1960's, Dad decided to enter the business as a way to increase profitability. The main business for Luxco (formerly David Sherman Corporation) at that time was private label products that sold through Paramount Liquor Company, which was a wholesaler owned by the Lux and Sherman families (and is now Glazer's Missouri). The private label business back then was (and still is!) marginally profitable at best.
Dad's first foray into the decanter business came through replicating professional sports team players where the head or helmet would come off, we would fill the bottle with whiskey, put the top back on, a strip stamp down the back and off to the market it went! We literally hand-filled and packed every bottle! In fact, the Blues decanter you see in the lobby today was one of the ones Dad designed … check the bottom of it and you'll find, "Created by Paul Lux, 1971." These athlete replica bottles did really well and our sales force (two people!) were able to "pre-sell" them to distributors and soon thereafter made them an allocated item because of their demand.
These decanters were a lot of fun to produce and we replicated many different sports and sports teams during that time; but we also designed and marketed other items as well – like a WC Fields bottle and a Mississippi River riverboat bottle – just to name a couple.
Shortly after our sports decanters hit the market, Dad was contacted by Mr. Henie Foss, who owned a company called Foss Drug in Golden, CO. They had developed a line of wildlife replica decanters called Ski Country. These decanters were the most beautiful decanters made at the time. They were beautifully crafted and almost looked real! Mr. Foss wanted to know if we could fill the decanters for him and he would sell them in his stores since he wasn't properly licensed in order to fill them himself. We said, "Sure, but give us the license to sell everywhere else except in Colorado," and a partnership was formed that lasted for years.
The Ski Country decanters became a big part of our business. All the bottles were allocated and sold BEFORE even being produced! The sales team would sell them from pictures, the retailers would take orders from bottle collectors, and from the pre-sales we knew how many to produce. Similar to the Kelley Blue Book for cars, there existed a trading "blue book" for decanter values and our Ski Country decanters were routinely at the top of the list as the most valuable. We did bottles in conjunction with conservation organizations such as Ducks Unlimited and the Ruffed Grouse Society; and we would attend bottle collector trade shows to exhibit new bottles and create a buzz over what was coming the following year. It was a great business to be in for sure!
Dad's most proud bottle, and one that you will still see displayed today, is that of the tri-color Bassett Hound. It is a replica of our beloved family dog, Duke. We got Duke when I was just 12 years old. He lived almost 15 years and was a staple alongside my Dad for most of those years. I can recall in Duke's later years, when he was pretty frail, you would see Dad coming up the driveway after working in the garden and Duke would be hitching a ride in the wheelbarrow because he couldn't make the walk! They were true buddies to the end. As it turned out, the Duke bottle was one of our best sellers ever!
Another story that I enjoy telling is about the hockey decanters. When kids play hockey on traveling teams these days, they primarily stay in hotels. But, that wasn't always the case! When I was playing travel hockey, we always stayed as guests with a player and their family from the opposing team. It is called "billeting" and kids in Canada have been doing it for generations. In addition, our parents rarely ever came along on these trips with us. We simply loaded on the bus, headed north to play hockey, and that was it!
So, about five years ago I was talking to an older coach (about my Dad's age) at a practice where I was coaching some other kids, and he asked me what I did for a living. We started talking about the booze business and he proceeded to tell me about a kid that stayed at his house years ago whose Dad was in the booze business. He said the kid gave him a "hockey player liquor bottle" as a "billet gift". We would always bring the host family a gift as a token of our appreciation. So years later, at our chance meeting, he told me that he thought it was such a cool gift and that he still treasures it to this day! Well, guess who that kid was who stayed at his house YEP, yours truly! It turns out that I had played against his son in a tournament in Chicago in 1973 and stayed with their family! They STILL have the billet gift bottle that I gave them … how cool is that?
In closing, I wrote about the increase in profitability that the decanter business exhibited. Because of the additional profit from that business, Dad was able to purchase the Everclear brand – which represented our first major brand acquisition and really laid the foundation for what we are today! The decanter business is a great part of our Luxco history and hopefully now you can appreciate the significance of those clunky decanters, the impact that they have had on our company, and the reason why I, like my Dad, love to look at them and smile.
– Donn