A Great Party For Great Employees
January 1, 2016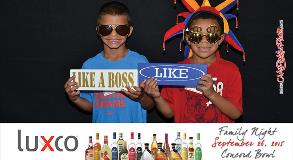 More than 400 people attended the company-wide celebration for Luxco employees and their families, held at the Concord Lanes and Recreation Complex in St. Louis on September 26.
"It was a very big success," says Janet Dautenhahn, Executive Assistant at Luxco. "In fact, we hadn't expected so many people, but the party was great, and we hope to have more events like this in the future. This year was kind of a trial run."
Lots of activities – bowling, batting cages, mini-golf, giveaways, a photo booth and a DJ – made the celebration fun for everyone. Face painters and balloon artists were there to keep little ones entertained, and of course there was plenty of food and drink.
"The party was just a thank-you for our employees," Janet adds. "Donn and David were both there and they each gave a speech thanking everyone for their hard work over the past year."
Beyond showing his gratitude, President and COO, David Bratcher truly enjoyed interacting with employees and getting to know their families. "I had a great time at the Luxco family outing! From the food and drinks to the activities and mingling, it was a wonderful night," he says. "It is always nice to meet the families of the employees that work at Luxco, as we hear so much about them throughout the year."