A NEW SHELL FOR A NEW PEARL
April 17, 2015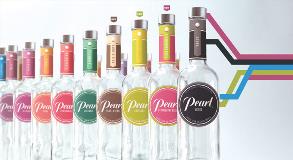 Made with soft winter wheat and pure Canadian Rocky Mountain water, Pearl Vodka is expertly crafted in micro-batches, distilled five times and filtered for ultimate smoothness. The result is a classic, clean and ultra-smooth, award-winning vodka. Unlike any other, Pearl satisfies a taste for adventure within every flavor and every cocktail.
Now, Pearl's updated packaging, extensions, and new positioning perfectly mirror that award-winning taste we have grown to love.
All Pearl packaging has been improved to produce a consistent and eye-catching shelf presence. The new Pearl features an embossed, metal closure, beveled inset glass, a neck label that highlights each flavor, and a newly redesigned face and back label. This package refresh is sure to increase our consumer relevance and drive trial at retail.
In addition to our simple, yet beautiful new package design, Pearl is launching three exciting new flavors this Spring. Vanilla Bean, Strawberry Basil and Lime Basil will join our colorful lineup in April, each bringing their own unique and delicious tasting experience to Pearl drinkers everywhere. Vanilla Bean is the perfect blend of delicately sweet vanilla bean with hints of butterscotch and decadent chocolate. Pleasantly fragrant and equally delicious, both Strawberry Basil and Lime Basil were inspired by cocktail trends on-premise, consumer interests on social media, and the growing popularity of infusing vodka with fresh fruit and herbal components for complexity. Now vodka drinkers can have the best of both world with Strawberry Basil and Lime Basil. Strawberry Basil delivers sumptuous strawberries with a subtle perfume of garden-fresh basil for a flavor that truly celebrates the season. Lime Basil brings the bright zest of lime and the alluring aroma of freshly cut basil. Just enough citrusy sweetness perfectly complemented by a uniquely, herbaceous finish. The perfect summer cocktail to enjoy on your favorite patio.
Pearl marketing support will kick off in May and will feature a newly revamped campaign – Discover Pearl. Capturing the pure essence of Pearl, we have created a beautifully illustrated and whimsical world under the sea that taps into our adventurous side and promises that no matter what the obstacle, you can Find Your Pearl. The new campaign will coincide with the packaging refresh and will come to life through all aspects of our retail plan.
Support Materials Include:
Impactful Display Enhancers
Permanent Display Racks
VAP and Rebate Offers
New Point-of-Sale Signage
50mL Gravity Bin
50mL Counter Trays
Newly Redesigned Pearl Party Pack
Media support will continue into 2015 and will feature Facebook, Instagram, Pandora Radio, and Google Search.
Pearl's new packaging, flavor innovation and marketing support will bring a fresh and well-deserved energy to the brand, captivating a younger, vodka thirsty audience. We encourage all vodka lovers to Discover Pearl.