A Party 105 Years In The Making
December 25, 2015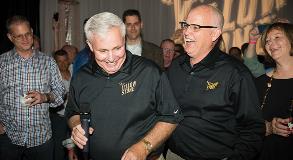 On September 16, 2015, Yellowstone Whiskey – a combination of hand-selected 12-year rye, 7-year rye and 7-year wheated Kentucky Straight Bourbon Whiskeys – was introduced to an enthusiastic crowd of more than 100 people at the Oscar Getz Bourbon Museum during the annual Kentucky Bourbon Festival in Bardstown, KY.
In attendance were Steve & Paul Beam, co-founders of Limestone Branch Distillery. Also in attendance were bourbon bloggers and media writers (Whiskey Cast, The Chuck Cowdery Blog, Whisky Magazine, Sippncorn and Insider Louisville) as well as distributors and key retailers.

"It's a great feeling to bring Yellowstone back to the family," said Paul Beam at the event. "I know that there are people up above that are looking down and smiling, all the Beams and the Dants. I want to thank all the people at Limestone Branch and at Luxco who made this happen. The most exciting thing about it all is that it's just the beginning and there's so much in front of us … so much to happen here in the future."
-Paul Beam, Co-Founder, Limestone Branch Distillery
Only 6,000 bottles of Yellowstone Limited Edition were produced, at 105 proof and with a suggested retail price of $105, honoring the 105th anniversary of Paul and Steve Beam's great-grandfather, Minor Case Beam, selling his Old Trump Distillery to Joseph Bernard Dant, a pioneer distiller and relative from Minor's mother's side. Each bottle is hand-signed and numbered by Steve Beam and sold in a commemorative tube.
Yellowstone recently received a 90 point rating in the Whiskey Advocate.

"Blends 7 and 12 year old bourbons, and a 7 year wheater, in a beautifully packaged tribute to the old brand. Typical nose – cinnamon Red Hots, milled corn, oaky zest – in balanced harmony. Beautiful stuff on the tongue: warm but not hot, expansive corn sweetness that lightens the cinnamon's intensity, some clove, some oaky dryness. The warm finish ends after a long embrace. "
-Lew Bryson, Whiskey Advocate