A Storied Past, A Promising Future: David Nicholson® Package Refresh
July 13, 2016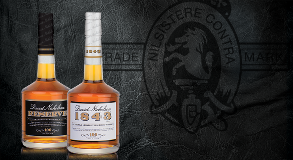 For decades, David Nicholson® was primarily only available in Missouri and Illinois, and had no variants of the flagship brand, 1843®. This year marks a shift in the winds for this historical brand with updated packaging, its first ever website, and an all new variety being added to the brand family, David Nicholson® Reserve.

David Nicholson® has been a part of the Luxco family since 2000, and has earned gold medals two years in a row at the prestigious San Francisco World Spirits Competition. Earning Double Gold in 2015 and Gold in 2016, it became evident that David Nicholson® was gaining traction and recognition in the bourbon community. The brand's response to these accolades was in the making already, with Luxco having formulated an all new variant, David Nicholson® Reserve. While 1843® is a 'wheated' bourbon that offers an extra smooth taste, the all new David Nicholson Reserve is an extra-aged 'ryed' bourbon that provides a full-bodied flavor and a distinct, spicy taste. In true David Nicholson® fashion, both of these variants provide the character and quality you expect from the David Nicholson® brand.

David Nicholson® Reserve is being released amidst a packaging update that gives the new David Nicholson® family a sleek, upscale look that more accurately coincides with the brand's history and reputation. New labels, fire-branded natural corks, matte-finish capsule closures, and custom embossing on the shoulder of the bottles all add to the new and improved look of the growing David Nicholson® family. Further highlighting the brand's storied past and promising future is the recent debut of the brand's first-ever website, www.davidnicholsonwhiskey.com, which perfectly complements the level of class we've come to know and expect from the David Nicholson® name.