A Timeless Honor: John Rempe Receives The 2019 Paul A. Lux Award
April 9, 2019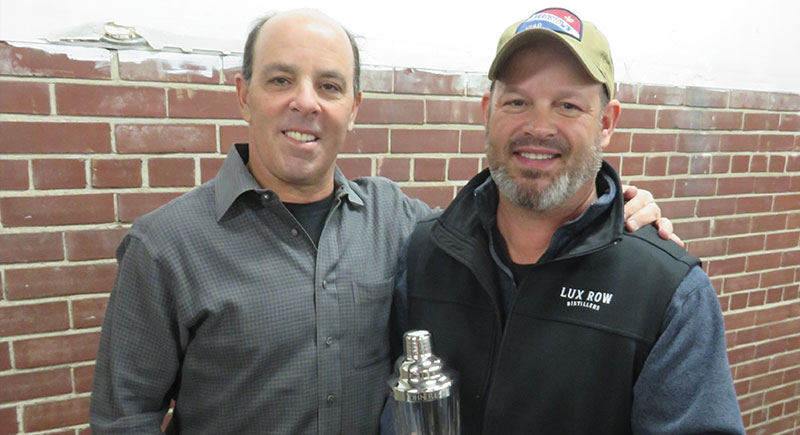 John Rempe, Lux Row Distillers' Head Distiller and Luxco s Director of Research and Development, received the prestigious Paul A. Lux Award in 2018.
"I was shocked, surprised and emotional to receive this award," Rempe says. "It is very humbling to receive an award from Donn, named after his father, and I feel honored to be among the lucky recipients."
The Paul A. Lux Award was created in 2008 to recognize valuable individuals for outstanding achievement, dedication, integrity and commitment to Luxco. The award was named after Paul A. Lux, the founder of Luxco/DSC, as a tribute to honor his vision and legacy.
"Now in its tenth year, this award continues to carry deep meaning to me and our family as it honors my father and his legacy," says Donn Lux. "I am pleased to award John with this honor as he has been an important part of the Luxco team for 20 years, both leading our R&D department and now working at Lux Row as head distiller. John's contributions over the years have been impactful, and this award is hard-earned."
John, a certified food scientist and biologist, graduated from Saint Louis University in 1993. Before joining Luxco in 1998 as quality control coordinator, John worked in both the soft drink and fruit juice industries, first as a microbiologist and eventually working his way up through research and development and quality control. Soon after joining Luxco, John was promoted to Research and Development Manager in 1999. That same year, he received Luxco's "Most Outstanding Employee" award.
"Some of my earliest memories include developing the DSS® tequila product, which became a top seller at the time, as it replaced tequila in cocktails during a time where tequila prices were in crisis," he says. "Over the years, I have had the chance to work on incredible projects. Creating the Pearl® Vodka flavor line was one of my favorite accomplishments, especially the pomegranate and cucumber flavors, which were very popular. And, of course, creating the Blood Oath® Bourbon series is also a big source of pride for me."
As plans for a bourbon distillery began taking shape, John knew he wanted to be a part of it. With his distilling and blending knowledge built over the years, and seeking out continuous education on all elements of the business, John was excited for this new chapter for the company. In 2017, he was named Lux Row Distillers' Head Distiller.
"This is my dream job. Watching the distillery come to life from an empty field, moving to Kentucky and living on the property where I am able to wake up to the smell of mash cooking every day – this is as good as it gets," he says.
John has two grown children: Hunter, 23 years old, and Sophia, a sophomore in college. "The highlight of my day is talking to my kids," says John. When not at work or traveling back to St. Louis, John enjoys hunting, playing guitar and hanging out with his dog, Remy.
"Over the last 20 years, Luxco has grown a lot, but what has never changed is the feel of a small, family company," he says. "I have enjoyed being part of this family and watching it grow. Receiving this award, which honors such a respected fixture in Luxco history, is the icing on the cake."