AN INSIDE LOOK AT LUXCO
October 10, 2014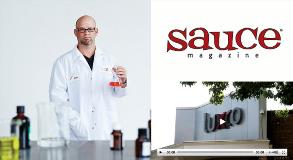 Sauce Magazine, a popular publication in St. Louis that highlight food and beverage news in the metro area, recently conducted a feature story Luxco, its people, and deep roots in the St. Louis area.
Sauce's popular "What I Do" blog featured our very own John Rempe, Director of Corporate Research and Development, otherwise known as "the mad scientist." They also produced a short video showcasing what we do and how Luxco is entrenched in the community.
Click here to read the full article.
Click here to view the short video on Luxco.