Annual Sales & Marketing Conference
January 4, 2017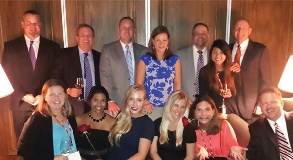 This fall, the sales and marketing divisions gathered in St. Louis to discuss 2017 brand objectives and sales strategies at Luxco's annual Sales and Marketing Conference. This event is always a great way for new hires to meet the team, as well as for sales and marketing to come together to talk through ideas and identify priorities for the coming year.
The two-day conference consisted of presentations from the marketing team, which included 2017 brand plans, creative concepts, and point-of-sale materials. Rebel Yell®, Ezra Brooks®, Exotico®, Everclear®, Pearl®, and El Mayor® displays filled the room, helping to get everyone excited and inspired for 2017. The visuals allowed the sales team to interact with the displays and see how they will come alive at retail.
Each morning opened with project updates and company goals from Donn Lux and David Bratcher which focused on the impact that current plans will have on the future of Luxco. There were also several breakout sessions where each Business Unit was able to dive into the details that pertain to their specific needs. The sales and marketing teams also supported our local St. Louis Blues by attending a game against the Calgary Flames. It was a fun evening at the arena enjoying great company (including Blues legend Brett Hull!) and some staple Luxco products, of course.
The marketing and sales teams as well as the entire staff at the St. Louis corporate office wrapped up the conference with a fantastic dinner planned by Michele Lux, who left no detail overlooked. Each table was branded with a different Luxco product, and employees were able to sit by people they hadn't had an opportunity to talk to before. Thanks, Michele, for an incredible night!
It was a productive couple of days building relationships, sharing ideas, and working on plans to continue to improve Luxco's sales and marketing strategies for a successful 2017, and we look forward to the year ahead!