Bob Manchick Celebrates 61 Years
October 14, 2013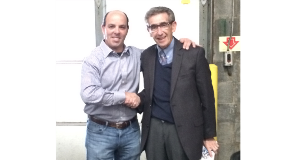 Being recognized as an expert in any field for 61 years of your life requires dedication, savvy, intelligence, and an overall likability – and Bob Manchick encapsulates all of those traits and more for the beverage alcohol industry.
On December 16th and 17th, we honored Bob's 61 years of service with a party at a local Cleveland establishment and lunch at our Cleveland facility with fellow members of the Luxco family. Beginning his career in 1952 as a sales representative for Choice Wine Company in Cleveland, Ohio, Bob quickly learned the tricks of the trade and gained respect from his peers. He gradually advanced and broadened his career, ultimately becoming the Chairman and majority shareholder of Paramount Distillers, Inc. When Luxco acquired Paramount in 2011, Bob played an integral part in integrating the sales and operations of the two companies.
Congratulations, Bob, on all of your accomplishments over the last 61 years!