Celebrating the Life of Ann Lux Written by Dr. Paul S. Lux
April 8, 2021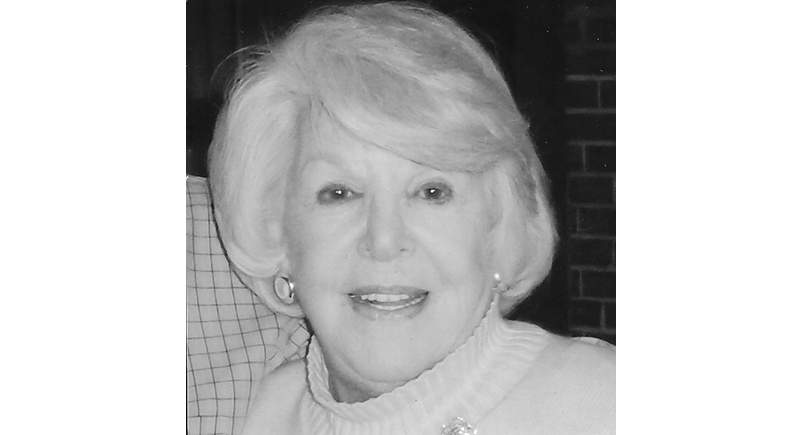 When Ann's mom Dorothy was born, at the turn of the 20th century, the average life expectancy in the United States was 45 years of age. Ann got to live the equivalent of two full lives. To put that into some perspective, as a girl she listened to the attack at Pearl Harbor and the D-Day invasion on the radio with her mom. As a young adult there was a cure for tuberculosis, polio and the invention of penicillin. She watched men walk on the moon in her 30's, the invention of the personal computer in her 50's and the iPhone, that she could never figure out, when she was 75. She was alive during the tenure of 16 U.S. Presidents. She witnessed the greatest period of innovation in the history of the world.
In her 80's she had so much energy that we all had trouble keeping up with her. In my own mind, I have looked past the last two years of her life which, in no way, represents the previous 86 years of a life well lived. She would want to be remembered as a patriot and a proud member of America's Greatest Generation.
Almost 38 years ago she reinvented herself. She ceased to be called Ann or mom and became Big Mama. Not just a name, but a whole persona. Her friends, my friends, my children's friends all called her Big Mama. I don't think I ever called her Mom after that.
She was so thrilled to become a grandmother while she was still 50 years old. And even more proud to have had six more grandchildren over the next 20 years. Her great-grandson would be the icing on the cake! I remember right after my son Paul Jr. was born, she came to me with some words of advice. "Paul, I want you to know that I do not babysit." It's funny that she would swear she did not have an accent and sounded just like everyone else from St. Louis.
She was the greatest facilitator of fun. One example was when Paul and his roommate Aaron were forced to come home for a college semester during Hurricane Katrina. She would call them and say, "let's all go to the casino for the night." And of course, stake both of them at the blackjack table.
Whether it was a lacrosse game for Benjamin, a fashion show for Hillary, hockey games for Philip and Andrew, a horse show for Allison or a performance by Lindsay, Big Mama would be there. It was always better if she could take the jet, but local functions were just as fun.
Big Mama was above all a Southern Lady. She had impeccable taste, loved to entertain her friends, and was always putting other people first. She had a perfect command of English grammar and was the first to tell me when I had misspoken something. She never gossiped and never left the house without her hair done. No trip or vacation could be planned unless her hair appointment had been confirmed.
Even when we were young, she was committed to giving back to her community through volunteering and serving on Boards. But what she most wanted to be remembered for is being charitable. She supported hundreds of charities, and occasionally, when confused, would write three checks to the same charity in the same year! It was difficult for Donn to pry her checkbook away, but she would always ask to make sure donations were paid.
Something that I am proud of and I want to mention. Her children (as well as their spouses — Leslie, Michele and Hugh) all stepped up and took on specific roles once our father passed away 16 years ago. And we worked very well together! Donn was the financial person, Cathy was the driver, Caroline handled the caregivers and I of course was the doctor. When mom had one of her knees replaced, I stopped by her home to check on her. I asked her had she done her therapy today? Her response was no, but she had thought about doing it. When I asked her if she thought she had gotten any better she understood my point. But really, she was telling me that if she didn't want to do her therapy, nobody was going to tell her to do it.
This day would not be complete without mentioning Big Mama's love of traveling and the theater. She was able to stay active and travel into her mid-80's. She kept detailed journals of her voyages and encouraged all of us to travel extensively. Donn, Michele, Leslie and I got to share a cruise through Southeast Asia when mom was 81, and we all journeyed to Montreal for her 80th birthday party. Benjamin, Hillary and I met her in Dublin for dinner when she was 83 years old. She never missed an opportunity to meet Caroline and the twins in New York City for four or five plays in a row.
So, unfortunately today her journey has come to an end. She traveled to every continent on Earth. She had a front row seat to the American Dream. Her father, with only a third grade education and a terrible stutter, was able to lay the foundation for her to build on. She gave birth to the next generation of achievers and was able to witness, just a few weeks ago, a dynastic change in the business her husband and father started, and her son ran over the last 62 years.
My mother would never give herself any credit for being smart or wise. She would always deflect and say, "your Dad went to MIT and Harvard Business School, he is the smart one." But somehow, she was able to navigate 88 years on Earth, and was never told NO once in her entire lifetime! She was smart like a fox Donn would always say.
One of mom's favorite expressions was "in everyone's life a little rain must fall." That is probably what she would tell me today. Accept that you are in a tough place, learn from it and move on. Mom embraced everyday she had like it was her last. She never slowed down until the very end. When she would tell me what she had done in a day, I would ask her aren't you worn out? Her response was, "Paul, life is for the living." That really sums up Big Mama's philosophy in one sentence.
I'll close with this thought. I know if Big Mama were sitting here today, and we were at someone else's funeral, she would turn to me and ask, "Paul have you ever seen a hearse pulling a U-Haul trailer?" I would say mom, of course not! And she would reply, "exactly, you can't take it with you so enjoy the hell out of each day." These are the lessons I learned from my mother. I will try and practice them as I remember her each day going forward.