CONGRATULATIONS TO RAY TRUSIK, WINNER OF OUR EMERALD ISLE ESCAPE!
July 3, 2015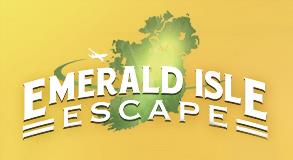 Ray and his wife Jeanine will enjoy the seven-day, six-night Pampering Getaway, which includes a stay at Castlemartyr Castle and a tour of the Saint Brendan's® facility in Derry.
"It has been a dream of mine to visit Ireland and what better way than to stay in a castle!" enthuses Ray. "Thanks to Saint Brendan's Irish Cream and Luxco for making my dream come true."
Ray has been buying Saint Brendan's Irish Cream for a few years now, due to its great taste and superior quality. He purchases Saint Brendan's at his local ABC Liquor in Tallahassee, Florida. The Trusiks look forward to the trip, which they will most likely take this fall, and they toast their good fortune each time they raise a glass of Saint Brendan's.