CONSUMERS ALREADY CLAMORING FOR A RARE ESCAPE WITH PEARL
July 2, 2014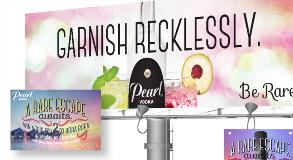 It looks like Pearl Vodka has struck a chord with its unique summer campaign, A Rare Escape!
Launched at the beginning of June, the Pearl Vodka sweepstakes to win a trip for two to the exclusive Pearl Beach Resort and Spa in the beautiful Bora Bora Islands has been met with a huge response! The sweepstakes runs through the end of the summer, but already Pearl is seeing consumers flock to its Facebook page to enter, with our fan base growing to over 50k in just the first couple weeks!
Pearl is supporting this promotion with targeted media placements, including a partnership with Evite and The Kitchn, Facebook advertising, outdoor billboards, and ads in People, InStyle, Entertainment Weekly, Cosmopolitan, and Elle magazines. In addition, a robust menu of POS materials and displays, including ceiling danglers, shelf talkers and rebates are already in the market.
Fans of Pearl Vodka on Facebook can enter the sweeps now through September 1, 2014.