David Nicholson 1843® Launches New Variant and Updates Packaging
June 27, 2016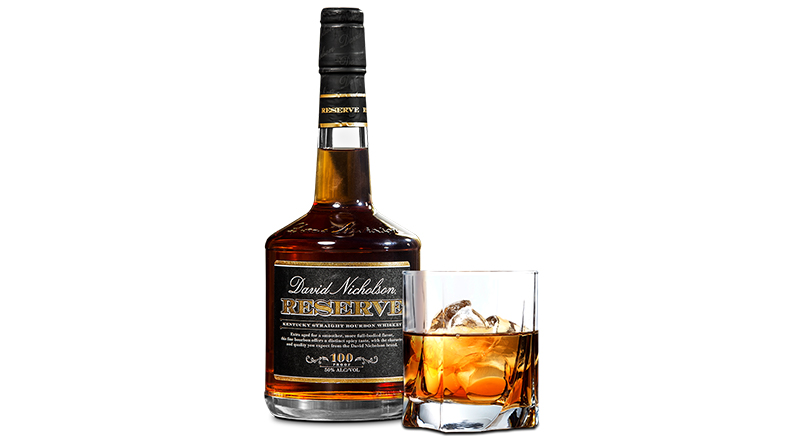 Brand Releases David Nicholson Reserve®
(St. Louis) June 27, 2016 – Luxco announced the brand refresh of David Nicholson 1843® Kentucky Straight Bourbon Whiskey and the launch of David Nicholson Reserve® Kentucky Straight Bourbon Whiskey. The brand, dating back to 1843 and part of Luxco's portfolio of whiskeys since 2000, will continue to provide 100 proof ultra-premium bourbon, in an updated sleek, upscale package for both of the variants.
"The 100-proof bourbon category continues to explode with an impressive 24 percent growth rate*," says Fletcher Buchman, brand manager at Luxco. "We continue to add products to our portfolio that fulfill the demand for craft bourbons with fuller flavor and connect current and future consumers that celebrate authentic bourbons."
David Nicholson Reserve is a Kentucky Straight Bourbon Whiskey that offers a rye mash bill for a spicy, warm finish and will be available in 750ml in July. This bourbon, bottled at 100 proof, is extra aged for a more robust flavor and a full-bodied long finish. Suggested retail price per bottle is $34.99-$39.99. The suggested retail price per bottle for the David Nicholson 1843 is $29.99-$34.99.
"David Nicholson 1843 is still made according to the original recipe and offers a smooth, wheated Kentucky Straight Bourbon Whiskey with hints of vanilla and oak. For David Nicholson Reserve, with the rye mash bill, we achieved a more complex, toasted rich flavor and a spicier bourbon," says Buchman.
The brand's packaging refresh includes a sleeker, contemporary bottle and a cleaner label design. With the addition of a natural cork and embossing on the shoulder of the bottle, the packaging now reflects the award-winning bourbon inside. David Nicholson 1843 recently earned a double gold award in 2015 and a gold award in 2016 at the San Francisco World Spirits Competition.
For more information about David Nicholson 1843 and David Nicholson Reserve, please visit www.davidnicholsonwhiskey.com.
*Source: NABCA 9L R12 through March, 2016
For more information, please contact:
Pia Reinhold at preinhold@commongroundpr.com
Maggie Hallam at mhallam@commongroundpr.com
About Luxco
Luxco, Inc. is a leading producer, importer and marketer of beverage alcohol products. Our mission is to meet the needs and exceed the expectations of our consumers, associates and business partners. Founded in St. Louis in 1958, where it is headquartered, it is owned and operated by the Lux family. Its portfolio of brands include: Juarez Tequila & Triple Sec, Pearl Vodka, Everclear Grain Alcohol, Arrow Cordials, El Mayor Tequila, Ezra Brooks & Rebel Yell Bourbons, Lord Calvert Canadian Whisky, St. Brendan's Irish Cream, Salvador's Cocktails, Yago Sant' gria and other well-recognized brands. For more information about the company, visit www.luxco.com.