DAVID NICHOLSON® RELAUNCH
July 4, 2015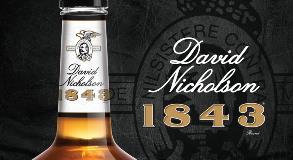 For men 25-54 seeking higher end, more flavorful bourbons with an authentic brand heritage. David Nicholson is the bourbon that delivers an upscale look and offers a smooth, premium taste.
BRAND HISTORY
1843: David Nicholson, a St. Louis grocer, begins making and selling whiskey in his general store.
1893: Julian "Pappy" Van Winkle joins WL Weller and becomes involved with the David Nicholson 1843 brand. He starts distilling and bottling the original "43" recipe at A. Ph. Stitzel Distillery for St. Louis. Wholesaler is the Peter Hauptmann Company.
2000: Luxco purchases the David Nicholson 1843 brand from the Van Winkle family.
2015: David Nicholson 1843 wins Double Gold at San Francisco World Spirits competition and introduces new packaging.
Currently, 95% of the brand volume is sold in Missouri and Illinois, so there is amazing opportunity for growth as it expands into new markets. Despite that, David Nicholson 1843 is up 11% in 2014 vs. the previous year and outpacing the domestic whiskey category by 3%.
Source: NABCA and DIVER: R12TY through DEC '14.