Daviess County® Bourbon Hosts Unique Virtual Events for the Bartending and Bourbon-Influencer Communities
January 8, 2021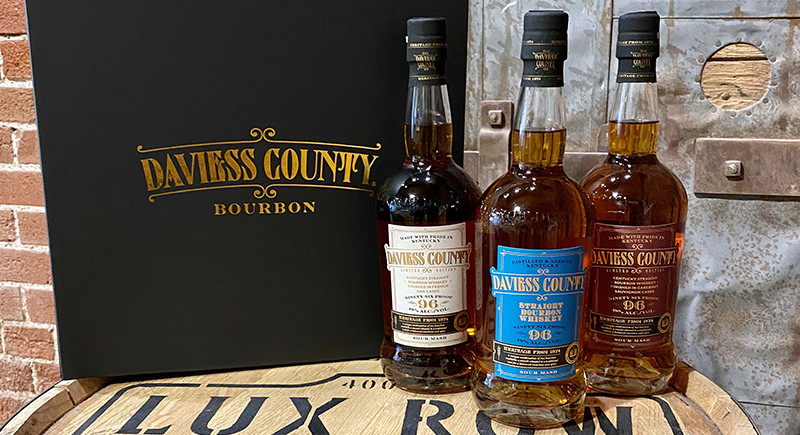 Lush Life Bartender Event
Lux Row Distillers™, Daviess County® and bartender advocacy group Lush Life teamed up to bring a unique virtual opportunity to the bartending community. Master Distiller John Rempe and Luxco® Assistant Brand Manager Philip Lux, took viewers on an in-depth tour of Lux Row Distillers to see how Lux Row is re-introducing the historic Daviess County Bourbon brand with three completely reimagined, blended and finished bourbons: Daviess County Kentucky Straight Bourbon; Daviess County Kentucky Straight Bourbon – Cabernet Sauvignon Finish; and Daviess County Straight Bourbon – French Oak Finish.
The event was live streamed to Lush Life influencers, including bartenders taking part in Portland Cocktail Week's educational offerings. More than 60 Lush Life bartenders attended the Zoom event, with five attendees given special access to interact directly with John to ask him questions.
The event was well received, with Emily Mullis of The Whiskey Reviewer commenting, "The label sticks out as being classical with a hint of modern feel to it. Lux Row Distillers certainly went out of their way to recreate history for the benefit of whiskey enthusiasts."
Bartenders who participated submitted recipes using Daviess County variants and will have opportunities to take part in future tastings. Watch for updates as this exciting program evolves.
The Bourbon Women Siposium Event
To celebrate women in bourbon, Michele Lux and Master Distiller John Rempe walked members of the Bourbon Women Society through a virtual tasting of Lux Row Distillers™ newest variant, Daviess County®.
The Bourbon Women organization strives to bring all women of bourbon together to initiate, cultivate and inspire deep meaningful relationships. Each participant received a Daviess County sample kit with the three variants to taste during the event. The virtual tasting was part of the Bourbon Women Annual Siposium, a weekend-long event providing informative workshops, meetings with industry leaders and tours of nearby distilleries.
Michele and John received nothing but great feedback from the participants about the Daviess County brand.