Daviess County® Double Barrel Bourbon Takes Flight
January 5, 2022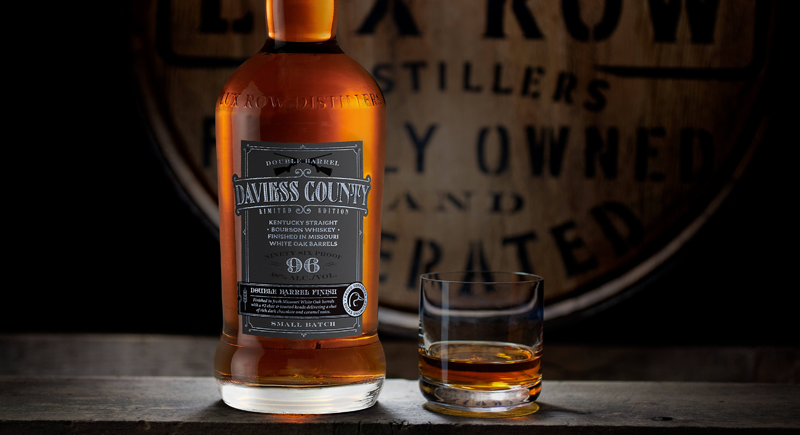 This fall, the newest Daviess County® bourbon variant joined the fold. Daviess County Double Barrel Bourbon – a small-batch bourbon featuring the Daviess County brand family's traditional mixed mash bill and finished in fresh Missouri White Oak barrels with #2 char and toasted heads – hit retail shelves across the country this September.
Created by Lux Row Master Distiller John Rempe, Daviess County Double Barrel Bourbon delivers a unique flavor profile through the double-barrel finishing process. The resulting bourbon features a nose that includes crisp, toasted-oak notes, caramel, and vanilla; flavors of sweet caramel, honey, and toasted marshmallow on the palate, and a finish of caramelized sugar and lingering dark chocolate compliments of the toasted-head finish.
Like the other Daviess County brand family variants, Daviess County Double Barrel Bourbon comes in at 96 proof. The familiar Daviess County bottle shape is adorned with a gunmetal gray label featuring something new and exciting for the brand: the logo of 2021 official partner Ducks Unlimited®.
As an official licensed partner of Ducks Unlimited, Daviess County Double Barrel Bourbon proudly displays the iconic DU logo. The Ducks Unlimited organization helped announce the retail launch of Double Barrel to its one million-plus members via direct emails, an internal newsletter, and as a story in Ducks Unlimited Magazine. For its part, the Daviess County brand team spearheaded a comprehensive media outreach campaign, making sure samples were sent to key spirits writers and influencers in conjunction with the launch.
"We have been working with the Ducks Unlimited team in preparation for the Daviess County Double Barrel Bourbon launch, and we are thrilled with the results," said Lux Row Distillers Brand Manager Eric Winter.
"Their team has been great to work with, and they were as excited as we were to introduce our brand to their members and to the public."
Daviess County Double Barrel Bourbon has been featured throughout the fall at Ducks Unlimited charity fundraisers – both as a featured bourbon and as a biddable auction item in a gift set that included all Daviess County variants.
"As a DU member, John was fully on board with exploring everything we could do to leverage our partnership with the DU brand, and he has played an integral role in executing the launch strategy," added Lux Row Distillers Assistant Brand Manager and fellow DU member Philip Lux. "John's efforts, along with the partnership with DU, have made the launch of Double Barrel a success and provided a boost to the entire Daviess County brand family.