Distillery Visitor Centers Gear Up for the Busy Season
July 13, 2022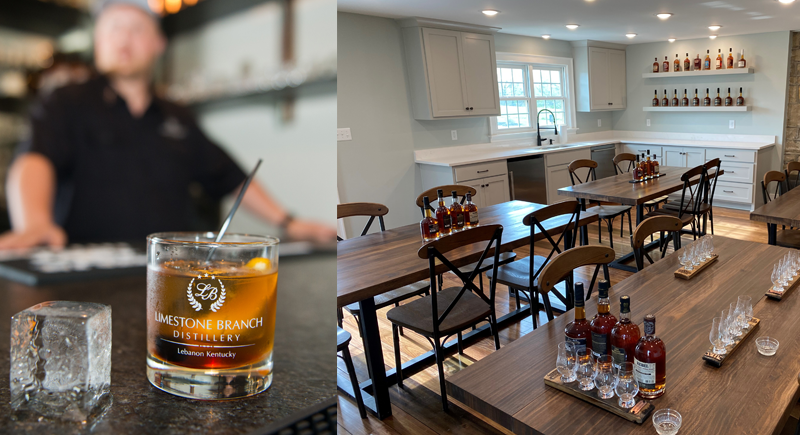 The promise of warmer weather and an increasing desire to congregate meant chances were high that summer would bring record visitation numbers to Luxco® distilleries. And after adding new features and programs for visitor experiences in 2021, Lux Row Distillers™ in Bardstown and Limestone Branch Distillery™ in Lebanon were ready for them!
Limestone Branch Distillery Takes Visitors Back to School
On the heels of last year's enhancements to Minor's Lounge Craft Cocktail Bar, Limestone Branch Distillery hosts an immersive cocktail making experience. Guests can gain confidence in the spirits, tools, and technology needed to create handcrafted, classic cocktails.
Led by a Limestone Branch Distillery Cocktail Specialist, Minor's Lounge Mixology Course is a hands-on affair, offering guests the opportunity to create one of the classic cocktails from Limestone Branch Distillery. While sipping on their creations, guests can enjoy their charcuterie pairing while learning about the distillation process used by the distillery. At the end of the hour-long course, guests receive souvenir rocks glasses to take home.
Minor's Lounge Mixology Course is offered on select dates throughout the year and provides for up to six guests (21+ only) per booking at $50 per guest.
The popular course will continue this fall.
Lux Row Distillers Opens Up Historic Stone House to Visitors
Since Lux Row Distillers opened its doors to the public in 2018, visitors to the beautiful Bardstown, Kentucky, campus have been intrigued by the lone stone house located outside the gift shop and main tasting room.
The Mattingly House–newly named in honor of the family who built it back in 1806–served as Master Distiller John Rempe's temporary office while construction continued on the distillery. After completing the distillery, the stone house has served as a tasting room for retailer barrel picks. This summer, the Mattingly House underwent renovations in anticipation of increased visitor traffic and now serves double duty. It is still a tasting room for retailer barrel picks, but it can also host larger tour groups, especially during busier times.
Lux Row Distillers can now use the three main rooms of The Mattingly House as tasting venues, and each room is named after a Lux Row Distillers brand. The historic home features the Rebel Tasting Lounge, the Ezra Brooks Tasting Lounge, and the Reserve Room, each with newly created signage and plenty of Lux Row Distillers products for tasting!
The Mattingly House is a Kentucky treasure listed on the National Register of Historic Places, and Lux Row Distillers is proud to bring this new purpose to it.