EL MAYOR INTRODUCES LIMITED BARREL-SELECT PROGRAM
April 17, 2015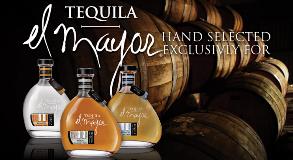 From field to barrel, El Mayor Tequila is patiently nurtured and hand-cultivated for more than a decade before, at long last, it is ready for bottling … and now select accounts can actually choose the barrel perfect for them.
Our Master Distiller, Rodolfo González, has personally selected a limited number of exceptional barrels worthy of the exclusive El Mayor Barrel-Select program. Chosen accounts will have the opportunity to select from Reposado and Añejo variants to be bottled and hand-labeled just for them. Their selection will arrive with an authentic, refurbished bourbon barrel along with custom El Mayor POS to create an impactful retail display that will engage customers and drive sales!
This unique program is sure to excite tequila aficionados and showcase the true heritage and craft behind the making of El Mayor Tequila.
El Mayor is available in four award-winning varieties: Blanco, Reposado, Añejo, and our limited-edition Extra Añejo.