El Mayor® Tequila and Limestone Branch Distillery™ Participate in the Honda Classic
July 9, 2020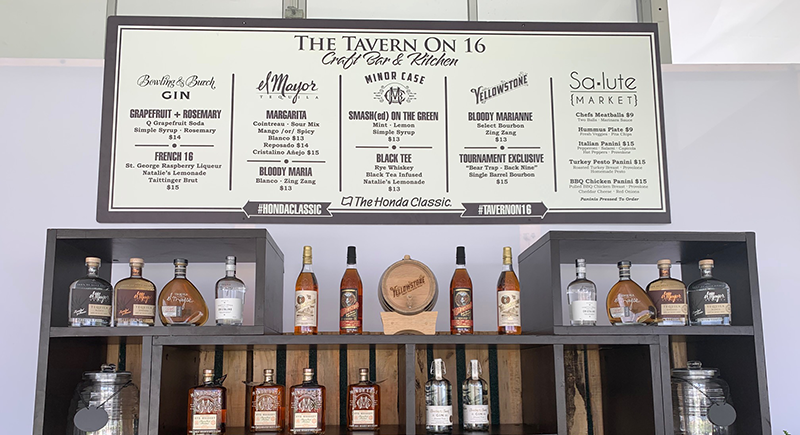 In February, El Mayor® Tequila and Limestone Branch Distillery™ sponsored the 49th Annual Honda Classic golf tournament in West Palm Beach, Florida. At the tournament, the brands sponsored a pavilion named "The Tavern on 16", which was on the 16th hole of the course. At the pavilion, attendees were able to watch the tournament and enjoy delicious cocktails made with El Mayor Tequila, Yellowstone® Bourbon, Bowling & Burch Gin and Minor Case Rye Whiskey. Some of the cocktails included a Bloody Maria made with tequila and a rosemary and grapefruit cocktail made with gin. In addition, El Mayor Brand Ambassador and baseball Hall of Famer, Iván "Pudge" Rodriguez, played in the Pro-Am tournament, signed autographs for fans and helped introduce the new El Mayor packaging.
Yellowstone Bourbon also launched the new Hand Picked Single Barrel label, with two barrels specifically chosen for the Honda Classic event and surrounding accounts – one barrel available at The Tavern on 16 and one barrel given to neighboring bars and restaurants. These barrels were selected by our partners at Republic National Distributing Company (RNDC) when they visited Limestone Branch Distillery for a special tour and barrel tasting. Both barrels were bottled at 109 proof, also selected by RNDC as part of the barrel pick process.
The entire event was a success! For the entirety of the program, including a blitz the last week of January, the RNDC Florida team and Division Manager Blake Sergot depleted more than 260 cases and gained more than 200 placements.
Nothing beats Florida sunshine, golf and some refreshing cocktails!