El Mayor Tequila Continues to Innovate and Announces New Variant
August 17, 2020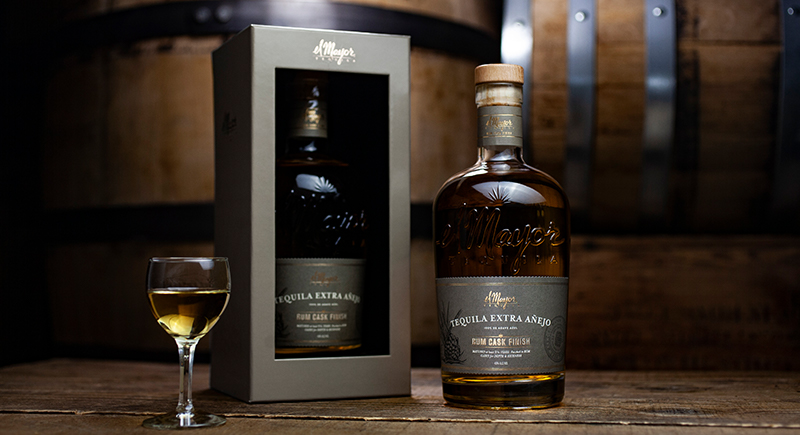 El Mayor Extra Añejo Rum Cask Finish Limited Edition Launches in September
(ST. LOUIS) August 17, 2020 – El Mayor® Tequila has launched a new limited edition variant, El Mayor Extra Añejo Rum Cask Finish. This new addition to the award-winning family of products is an ultra-premium handcrafted extra añejo tequila, aged a minimum of three and a half years and finished in rum casks, for an added layer of flavor.
"We are thrilled to launch this tequila as it surpassed our expectations in its complexity and character," says Graciela González, Fourth Generation Distiller and daughter of Master Distiller Rodolfo González at Destiladora González Lux. "The full body of the extra añejo finished in the rum casks leads to the perfect balance of oak, caramel, and dark chocolate, with a smooth and elegant finish of cooked agave."
As with every bottle of El Mayor, this limited edition is made with estate grown, hand-selected 100% blue agave from the valley area of Jalisco. For this variant, only the most mature agave was selected in order to achieve the richest flavor. Before bottling, every batch is tasted by Master Distiller Rodolfo González to ensure it has the perfect taste profile. Then each bottle is filled, labeled and packaged by hand to ensure the ultimate quality and flavor. El Mayor Extra Añejo Rum Cask Finish was distilled and produced at Destiladora González Lux (NOM 1603) and will be available nationwide in September. This limited edition tequila is packaged in an attractive embossed bottle, inside a decorative secondary box. Approximately 6,000 bottles will be available on an allocated basis with a suggested retail price of $129.99.
For more information on El Mayor, visit ElMayor.com and follow El Mayor on Instagram @elmayortequila.
For more information, contact:
Pia Reinhold at pia@commongroundpr.com or Nicole Schulenburg at nicole@commongroundpr.com.
About Luxco
A leading producer, supplier, importer and bottler of beverage alcohol products, Luxco's mission is to meet the needs and exceed the expectations of consumers, associates and business partners. Founded in St. Louis in 1958, Luxco remains locally owned and operated by the Lux family. Lux Row Distillers brings the family's legacy to the heart of Bourbon Country in Bardstown, Kentucky and is now the home of Luxco's bourbon portfolio, including Rebel Yell, Blood Oath, David Nicholson, Daviess County and Ezra Brooks. Luxco has also built a new distillery in the highlands of Jalisco, Mexico – Destiladora González Luxco – where the company's 100 percent agave tequilas, El Mayor and Exotico, will be produced. Luxco's innovative and high-quality brand portfolio also includes Everclear Grain Alcohol, Pearl Vodka, Saint Brendan's Irish Cream, The Quiet Man Irish Whiskey, and other well-recognized brands. For more information about the company and its brands, visit www.luxco.com.