El Mayor Tequila Introduces New Variant, El Mayor Cristalino
September 16, 2019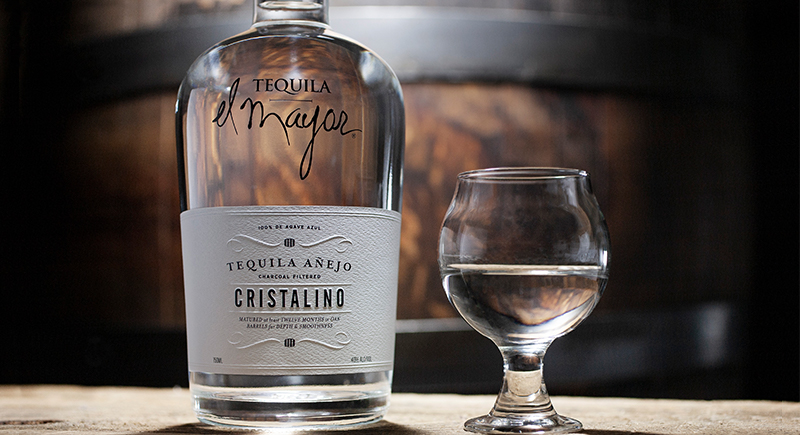 (ST. LOUIS) September 16, 2019 – El Mayor® Tequila has launched El Mayor Cristalino, a brilliantly crystal clear añejo tequila and the newest variant to the award-winning family of products. El Mayor Cristalino is an ultra-premium handcrafted tequila artfully blended from the finest añejo tequila, selected for its well-balanced oak flavors.
"To achieve the crystal clear brilliance, we filtered our añejo tequila using ultra fine charcoal," says Graciela González, fourth generation distiller and daughter of Master Distiller Rodolfo González at Destiladora González González. "This process creates a Cristalino tequila that has the complexity and character of an añejo, with the crisp, bright notes and color of a blanco expression."
As with every bottle of El Mayor, Cristalino is made with estate grown, hand-selected 100% blue agave from the lowlands of Jalisco. Each bottle is filled, labeled and packaged by hand to ensure the ultimate quality and flavor. Aged a minimum of 12 months, El Mayor Cristalino boasts flavors of cooked agave with oak notes, hints of vanilla, complex fruity undertones and a fresh finish of herbal and citrus notes.
"We wanted to grow the El Mayor brand family and we set out to create an elegant and exclusive Cristalino tequila, made for the most demanding and adventurous palates," says González. "Due to its uniqueness, we believe consumers will enjoy sipping it, as much as we enjoyed creating it."
El Mayor Cristalino is packaged in an attractive, modern bottle with a crisp, embossed white label. The bottle also showcases a screen printed logo and is topped with a glass cork. El Mayor Cristalino will be available nationwide in 750ml bottles at 40% ABV and will be a permanent variant within the brand family. The pricing for this product will fall within the ultra-premium tequila pricing with a SRP of $39.99.
For more information on El Mayor, visit ElMayor.com and follow El Mayor on Instagram @elmayortequila.
About Luxco
A leading producer, supplier, importer and bottler of beverage alcohol products, Luxco's mission is to meet the needs and exceed the expectations of consumers, associates and business partners. Founded in St. Louis in 1958, Luxco remains locally owned and operated by the Lux family. Lux Row Distillers is bringing the family's legacy to the heart of Bourbon Country in Bardstown, Kentucky and is now the home of Luxco's bourbon portfolio, including Rebel Yell, Blood Oath, David Nicholson, and Ezra Brooks. Luxco has also built a new distillery in the highlands of Jalisco, Mexico – Destiladora González Luxco – where the company's 100 percent agave tequilas, El Mayor and Exotico, will be produced. Luxco's innovative and high-quality brand portfolio also includes Everclear Grain Alcohol, Pearl Vodka, Saint Brendan's Irish Cream, and other well-recognized brands. For more information about the company and its brands, visit www.luxco.com.
For more information, contact:
Maggie Toigo at maggie@commongroundpr.com or Pia Reinhold at pia@commongroundpr.com.