Employee Spotlight – Aaron Harris Distillery Supervisor
October 2, 2019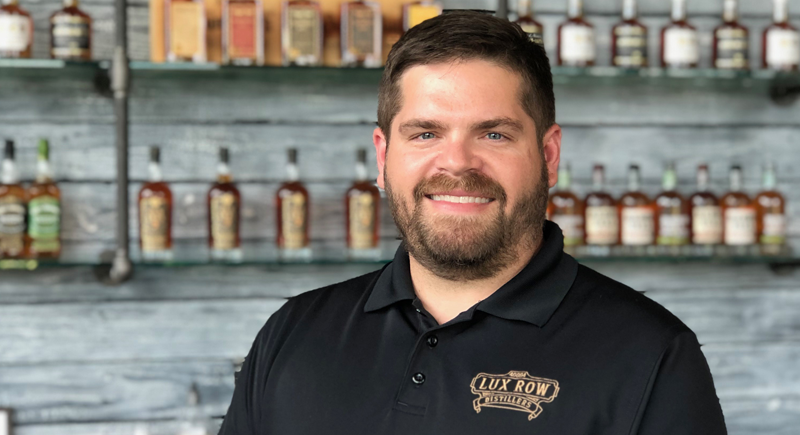 Aaron Harris started at Lux Row Distillers™ in September 2017 as Distillery Supervisor and has been part of the original team that helped Lux Row Distillers get up and running. In his role, Aaron manages schedules for the distillery labor, production and floor operations – from grain to barrel – to ensure the best product is being made each day.
In addition, he oversees the day-to-day quality control lab testing of the mash and new make samples at the distillery, ensuring all is running smoothly and efficiently by monitoring test results throughout the day. He also enjoys interacting with guests as time allows and explaining the distillery process.
"The best part of my job is to be a part of all aspects of production at the distillery and try to foresee any potential snags before they occur," says Aaron. "The biggest challenge is maintaining a strict production schedule and making sure we look ahead to any changes that need to be made."
Originally from Indiana, Aaron says Luxco® and Lux Row Distillers are different than anywhere he has ever worked.
"My colleagues here take great pride in their work and their contributions to the company," he says. "We truly have a family environment that focuses on working hard, but also maintaining great working relationships. We are also able to interact with company leadership and be inspired and fueled by their passion."
When not at work, Aaron spends most of his time with his wife, Leslee, and their two boys, Ransom and Rush. He also enjoys woodworking, hunting, and working outdoors on his property.
FUN FACTS:
What is your all-time favorite movie?
The Count of Monte Cristo
Favorite sport?
College football – Go Irish!
What is your favorite cocktail/drink?
Old Ezra® 7 Year neat
Best word to describe you?
Resilient