Employee Spotlight – Christina Hager – Merchandising Ambassador for Lux Row Distillers™
January 5, 2022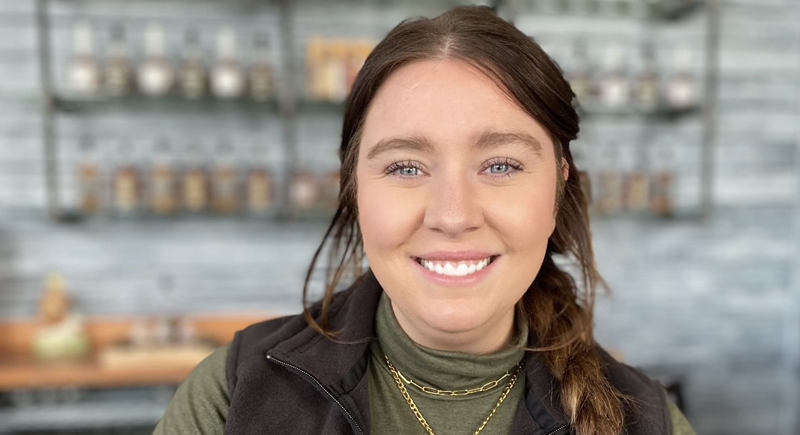 Christina Hager joined Luxco® in March 2021 as Brand Ambassador for Lux Row Distillers™ and currently serves as the Merchandising Ambassador for the distillery. Her work involves creating and collaborating with new and existing vendors to provide unique merchandise and specialty items to the visitors of Lux Row Distillers.
"My main goals are to identify wholesalers that can represent our brands with the right brand aesthetic in mind, elevate our merchandise and gift shop, and ensure our retail partners have the same vision as we do when it comes to things like social responsibility and size inclusion," said Hager. "It is all about finding items such as clothing, glassware, and trinkets that are in-demand and brand-appropriate. One of the best feelings is when a guest wants to purchase an item before we can get it tagged and put on the floor."
When not at work, Hager enjoys traveling around Kentucky. She likes to visit state parks and nature reserves while exploring small towns along the way.
FUN FACTS:
What is your favorite movie?
It's a tie between Hocus Pocus and the entire Harry Potter series
What is your favorite cocktail?
Lux Row Lemonade
Name three celebrities/famous people you'd want to invite to your cocktail party.
Johnny Cash, Ralph Lauren and Dolly Parton
What is your dream vacation?
To visit the town in Germany where my grandmother grew up
What is the best word to describe you?
Motivated
Is there anything you'd like your colleagues to know about you?
I want my colleagues to know I'm excited to be a part of the Lux Row Distillery brand team, and I look forward to continuing to elevate our retail and visitor experience.