EMPLOYEE SPOTLIGHT – DAWN BROWN
April 18, 2016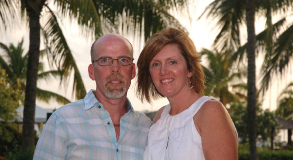 October 13, 1997 proved to be a fateful day for Luxco's very own Dawn Brown. That day began Dawn's career at Luxco, and would prove to be exactly what her profession had in store for her. Prior to joining the Luxco family, Dawn worked in admin and accounting for a CPA firm and a water treatment facility, all of which she says "pale in comparison" to her career at Luxco.

Born and raised in historic North St. Louis, Dawn is certified in accounting technology and began in the Accounts Payable department of Luxco. She was eventually promoted to Account Clerk, and now is the Accounts Payable Supervisor. On a typical day Dawn processes invoices, maintains vendor records, oversees corporate T&E cards, and assists with Limestone accounting responsibilities.

Aside from the relaxed atmosphere, Dawn's favorite part of coming to Luxco each day is her team, which she affectionately refers to as "her girls." Her favorite Luxco product was once Salvador's® Strawberry Margarita, that is, until the bartender at a company event didn't realize Salvador's was pre-mixed … Dawn's favorite Luxco product has been El Mayor® Reposado ever since.

When Dawn is away from the office she enjoys vacationing, attending concerts, spending time with her grandson Mason, and very much anticipates her first-ever, three-generation family vacation to Punta Cana this fall. She is utterly in love with her pup Maya, a 1 ½ year old German Shepard, and has enjoyed taking yoga and pilates in recent years.

Eighteen years later, Dawn's enthusiasm and happiness are admirable, endearing, and evident in her voice and demeanor.

Thank you, Dawn! We truly value you as part of the Luxco family!