Employee Spotlight – Kelsey Lyon: Bourbon Barrel Program Coordinator
October 8, 2020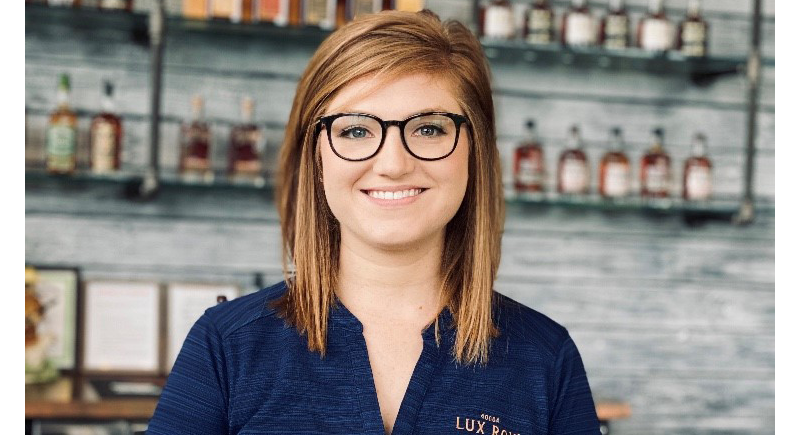 Kelsey has been with the Lux Row Distillers™ team since before the distillery opened in the spring of 2018. She began as a Tour Ambassador and recently moved into the role of Bourbon Barrel Program Coordinator.
In her current role, Kelsey coordinates barrel selections, samples barrels, controls inventory and hosts barrel selections. Recently, she has also worked on barrel tasting kits to send to accounts that cannot attend in-person sessions. Her biggest challenge is ensuring enough samples for all the barrel selections, and she relies on her team to help make it all happen.
A native of Bardstown, Kelsey loves that her job allows her to meet so many different people from all over the country and the world. She also enjoys the variety that every day brings. Coming back to her hometown after college, Kelsey appreciates the family atmosphere at Lux Row Distillers.
When not at work, Kelsey likes hanging out with her two main guys: her dog, Kaiser, and her fiancé, Tanner.
FUN FACTS:
What is a place you would love to travel to?
Iceland! I would love to visit the natural hot springs and hike all around the island.
Favorite sport?
Soccer! I played soccer from the time I was 4 years old, all the way until I was a freshman in high school.
What is your favorite cocktail/drink?
A Kentucky mule made with Rebel® 100, or a margarita!
Famous person you would like to meet?
John Rempe – HA!
Last book you've read/favorite book?
I am currently reading The Giver of Stars.
Best word to describe you?
Devoted!