Employee Spotlight – Mary Habert – R&D Coordinator
April 8, 2021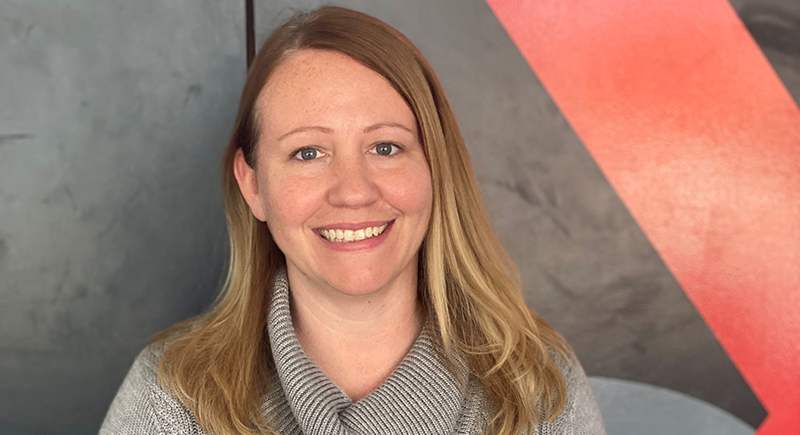 Mary Habert started her Luxco® career in 2017, taking on the role of Luxco's R&D Coordinator when John Rempe moved to Kentucky in his new role as Master Distiller at Lux Row Distillers™. Mary continues in this role today.
Her responsibilities at Luxco involve the development of new products, "from beakers to bottles." She works closely with the marketing and sales team to identify trends and better understand what consumers are looking for. She then works with the entire operation team to create and develop the finished product. Her focus is on the "juice" in the bottle – making sure the product maximizes the highest quality at the lowest cost, maintains a stable shelf life, and is made according to all government regulations.
"I enjoy the challenge of finding cost savings with existing products and working with processing to find ways to make the product more efficiently," said Mary. "But what I like most of all is seeing our finished products on store shelves and sharing those products with family and friends."
When not at work, she enjoys hiking trails with her two coonhounds and doing projects around the house. She and her husband expect to have more free time on their hands this fall when their youngest daughter heads to Missouri State University.
FUN FACTS:
What is your favorite movie?
Clue
What is your favorite cocktail?
My favorite cocktail changes with the season. During the fall and winter months, I like the warmth of a good Manhattan made with our Old Ezra 7. Once the weather starts warming up, I like a vodka tonic made with Pearl®. Or, if I am sitting poolside, I'll enjoy our new line of Vita Frute® Vodka Sodas.
What is your dream vacation?
My favorite trip was an Alaskan Cruise – it was beautiful and I would love to go back. But I also love the beach, so Hawaii would be a dream vacation.
Is there anything else you'd like your colleagues to know about you?
My husband and I own a video production company called Lifetime Media, www.lifetime-media.com. The company started 21 years ago in a small room in our home and grew to a 6500 sq. ft. facility in St. Louis with two soundstages. It is continuing to grow and thrive, and I am proud of how far it has come.