Everclear® "A Blank Liquid Canvas" Updated Website and New Influencer Partnerships Reflects Latest Marketing Campaign
January 8, 2021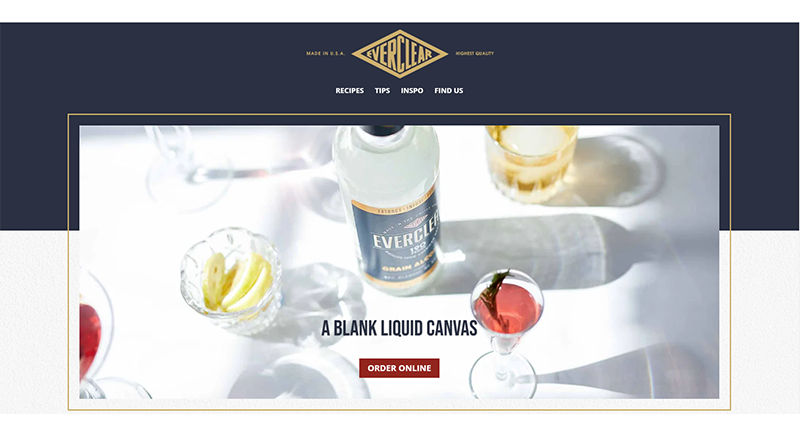 Sales and popularity of Everclear® soared in 2020, as cocktail craftsmen, bakers and other DIYers discovered the versatility and flexibility of the premiere, high-proof grain alcohol.
The heightened interest in the spirit – and its various uses from the bar to the kitchen – are reflected in Everclear's latest marketing campaign, A Blank Liquid Canvas.
"This past year illustrated why Everclear should be a staple in every household," said McKenna Burst, Brand Manager for Everclear. Odorless, flavorless, and colorless, it is the ideal high-proof grain alcohol for a host of creations. From liqueurs to pasta sauce – and everything in-between – Everclear offers the versatility to capture complex flavors using the simplest recipes. The possibilities are endless."
To highlight the new campaign, the Everclear website has a fresh new look to emphasize the brand's versatility. The updated site features sleek, modern visuals and a font inspired by the Everclear label design, and it includes recipes, tips and ideas for product use.
As the brand continues to evolve, so has their online content. Beginning in 2020 and running throughout 2021, Everclear looked beyond the bar to partner with three lifestyle influencers who will bring the brand to life and make it relevant to a new group of DIY consumers.
In 2020, Everclear partnered with Vanessa Lavorato, Michelle Cooke and Liz Marrow, who each bring diversity and distinctive ideas to the table for Everclear. Vanessa Lavorato is a chocolatier, TV host and food stylist in Berkeley, California whose work has been featured in Vogue, LA Times and PAPER magazine. But most importantly, Vanessa was a longtime fan of Everclear and was already utilizing it in a variety of her recipes. "When we first approached Vanessa about the partnership, she was excited because it's a brand she truly believed in. Her content felt organic, which is exactly how it should be," said Burst.
In addition to Vanessa, Michelle Cooke, a Georgia-based mother of three who focuses on motherhood, lifestyle and everything in between, and Liz Morrow, a creative space designer and home décor stylist based in Tacoma, Washington, will be sharing content to their blogs and Instagram profiles.
From bitters recipes to using Everclear as a baking ingredient, this program continues to push the envelope and introduce the brand to consumers looking for new experiences, proving that Everclear is truly a "Blank Liquid Canvas".