Exciting News: Luxco® is Now on YouTube!
October 8, 2020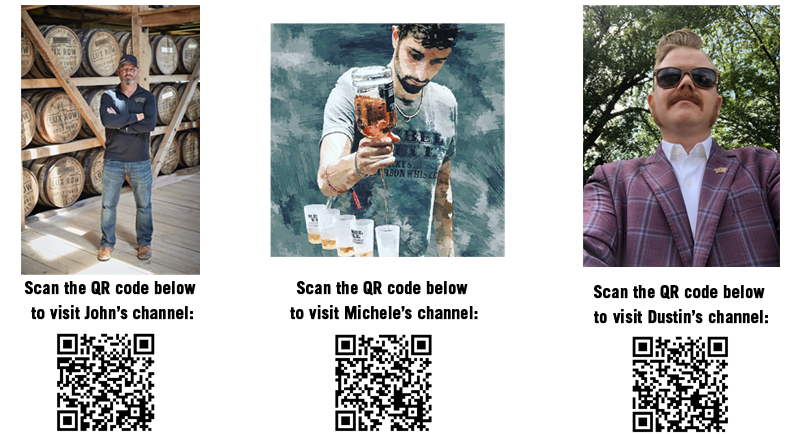 Luxco® is excited to announce the launch of three new YouTube channels hosted by our favorite spirit enthusiasts: John Rempe, Michele Reina and Dustin Parres. With the popularity of YouTube growing, consumers are turning to this platform for cocktail recipes, information and overall entertainment.
"Our goal with these YouTube channels is to engage with our consumers on a new level and make it interactive," says Philip Lux, Assistant Brand Manager. "We will be making a cocktail kit that can be purchased on our website to allow consumers at home to follow along with the recipes on our YouTube channel from their home bars."
Off the Still with John Rempe
This channel allows viewers to go on an adventure with John Rempe through tastings, tours of the distillery and day-in-the-life experiences of a master distiller. Viewers may catch peacock sightings, learn about the distillation process or discover how to gauge the brix in a fermentation tank. You never know what will happen when John is "Off the Still."
Michele's Mix and Match
This channel is a combination of bartending skills, interviews and unique cocktails. Michele Reina, Luxco European Brand Ambassador, will be showing viewers important tips and tricks of the bartending world. "As an ambassador, I am always inspired by the incredible bartenders I meet and places I visit. I intend to structure this channel in a series of video trilogies – showcasing a spirit, a venue and an expert personality," says Michele.
Drinks with Dustin
On this channel viewers will find Dustin Parres, Field Sales Manager, creating and crafting cocktails, while telling stories of the classic and unique cocktails that have shaped the industry. This channel will help viewers become better home bartenders, improve their skills and be entertained by the stories Dustin tells. "The inspiration for me is in the bottle," he says. "I love to educate people about spirits and cocktails, and I am finding a niche with taking topics that can be perceived as boring and educational and lightening them up by infusing some humor."