EXOTICO RE-BRANDED WITH BEAUTIFUL PACKAGE
July 2, 2014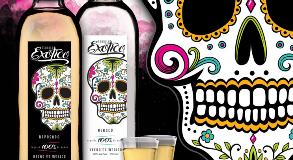 Exotico. The name alone conjures thoughts of mystery, seduction and maybe – just maybe – a slight hint of malevolence. Exotic by nature, exceptional by taste and quality, Exotico Tequila is extremely pleased to introduce the new look that is truly befitting of such a name … and such a tequila.
Inspired by the recent intrigue and allure of a more raw, stylized, almost tattoo-like artistry that is popular in clothing, cd & album covers, skateboards, snowboards, and so much more. The new label perfectly blends this new trend with the rich history and iconic art often associated with various Mexican traditions and celebrations. In fact, the Exotico skull icon cleverly integrates a menagerie of symbols and colors and even includes an illustrated agave plant as a nod to its tequila heritage. In addition, the Exotico logo itself has been refined to be more slick and smooth, yet maintain a slight and subtle edge.
Exotico is currently available in 1.75L, 1L and 750mL sizes in both Blanco and Reposado varieties. An award-winning brand in both the San Francisco World Spirits Competition and the World Beverage Competition (Silver Medals in both Blanco and Reposado categories), the product has always been a favorite with 100% blue agave tequila aficionados and master mixologists for its price to quality ratio. The brand is up +52.9% (R12, per Luxco Retail Data) and is showing increased growth and distribution across the country! That number is expected to climb even higher with the launch of the new package and its accompanying POS which will be available for ordering in July and shipping in August (1.75L and 1L sizes to begin, followed by the 750mL by late Fall).
Now the complete package of price, quality, taste and design – Exotico is sure to turn heads and turn inventory on the shelves! Don't be shy … Be exotic. Be Exotico.
Visit the Exotico Tequila now.