EXPERIENCE THE TASTE OF SAINT BRENDAN'S IRISH CREAM… IN IRELAND!
January 5, 2015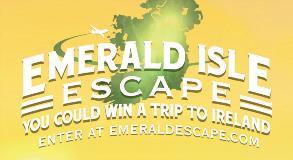 Saint Brendan's newest promotion gives consumers the opportunity to journey to the Motherland for the trip of a lifetime! Launching in January, Saint Brendan's drinkers can register for the chance to win a trip to the Motherland courtesy of Saint Brendan's. One lucky fan and guest will win a seven day, six night stay in an Irish castle of their choice, valued at $10,000!
The winner will chose from one of three epic castle getaways where they will enjoy the beauty of the Irish countryside. They'll complete their experience in Derry with a tour of the Saint Brendan's facility, where they'll discover everything that goes into our simply perfect creation. Weekly prizes will also be awarded to encourage daily registrations.
The sweepstakes will be supported by a robust menu of impactful POS materials, including ceiling danglers, window clings, case stacks, shelf talkers and rebates. These eye catching pieces are sure to attract attention at retail and drive purchase!
The Emerald Isle Escape sweeps runs January 2nd through March 31st, so share the good tidings with friend and foe.
May the luckiest entry win!