Ezra Brooks® Introduces Exciting New Variant
January 8, 2021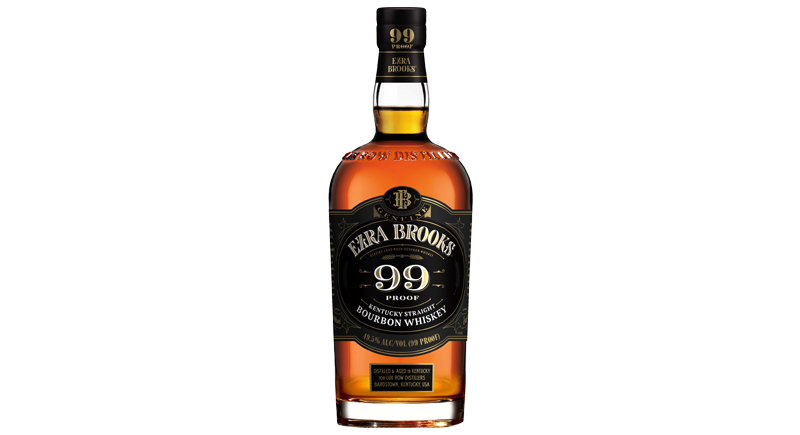 New Ezra Brooks® 99 takes the quality and profile of Ezra Brooks and elevates it to an enhanced 99 proof.
The latest addition to the award-winning Ezra Brooks family of products is Ezra Brooks 99, a pure, oak-barrel-aged Kentucky Straight Bourbon Whiskey elevated to 99 proof. Charcoal filtered for a smooth, mellow finish, the new Ezra Brooks 99 features the same great, spicy, ryed-bourbon taste, but with an enhanced flavor profile delivered by the higher proof.
"With Ezra 99 our goal was to create a higher-proof bourbon without sacrificing the rich notes Ezra Brooks is known for," said John Rempe, Master Distiller at Lux Row Distillers™. "And we achieved that with 99. The result is a smooth, drinkable bourbon with hints of caramel, vanilla, chocolate and spice. We're thrilled to introduce Ezra 99 to our Ezra Brooks consumers and to bourbon lovers everywhere."
Ezra Brooks 99 features higher-end packaging and the natural cork closure Ezra Brooks is known for, complete with a prominent "99" proof callout on the label and deep "LUX ROW DISTILLERS" embossing on the bottle's shoulder. "When you see Ezra Brooks 99, you'll see an elegant, upscale bottle that stands out on the shelf," said Eric Winter, Whiskey Brand Manager for Ezra Brooks. "We believe its elevated look and proof results in an Ezra variant that all bourbon lovers will enjoy."
Ezra Brooks 99 will officially launch in January. The new variant will be supported by the brand's "Elevate Your Game" campaign, which includes on and off-premise activations and promotions such as tastings, POS elements, special events and merchandise.